Watch the San Pablo Rapid Videos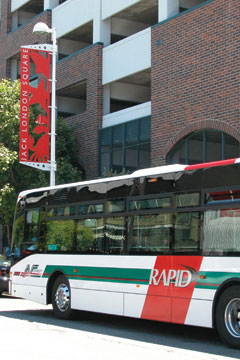 "San Pablo Rapid Service," two minutes long, was prepared for transportation policy makers. "Fastlane," 30-seconds long, is a commercial TV spot.
We are providing the movies in two formats-Windows Media Player and QuickTime. If you choose to view the movie in QuickTime and do not have the software, you may download it for free. If you cannot view the movies, their transcripts also are available below.
Transcripts
San Pablo Rapid Transcript
Fastlane Transcript
Windows Media
QuickTime
Watch for AC Transit's 72R San Pablo Rapid.
You can catch a Rapid Bus running from 6am to 8pm, every 12 minutes at stops spaced two-thirds of a mile apart. Electronic signs will let you know when your next bus will arrive. Currently, NextBus signs are installed at many locations along the Rapid line, including at most stops in Berkeley and the City of San Pablo, as well as Contra Costa College, Del Norte BART and the Jack London Garage.
Here is a map of the San Pablo route. Traffic signal priority will help buses move smoothly through intersections and get you where you want to go faster anywhere from Contra Costa College in San Pablo to Jack London Square in downtown Oakland – and to all major points in between. See the schedule. Still need local service? Local service continues to operate at all local stops.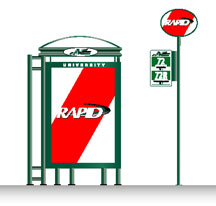 Enjoy your rapid ride in our new state-of-the-art Van Hool buses with a low-floor for easy entrance and exit. Van Hools have a third rear door in the back for quicker unloading. Look for buses with a red Rapid logo, which is also visible at all Rapid stops. See the Project Fact Sheet.
The project includes the implementation of several Bus Rapid Transit (BRT) attributes such as:
New low floor, multiple door buses to expedite boarding and alighting
Rapid Bus logo and branding on all buses and shelters, to maximize visibility of this service
Limited number of stops to reduce overall travel time
Far side stops with traffic signal priority to reduce intersection delays
The traffic signal priority is headway based and utilizes the Opticom detection system
Queue bypass lanes to allow the buses to bypass extensive queues at intersections
Bus Arrival information at all Rapid Bus stops to further enhance overall perception of system reliability
AC Transit has been working closely with the local County Congestion Management Agencies, through the San Pablo Technical Advisory Committee (TAC) and Policy Advisory Committee (PAC), to implement this 72 San Pablo Rapid Bus Project. Bus stop locations, shelter design, and traffic signal priority are being coordinated through the TAC and PAC to ensure that community concerns are identified and addressed.