What Makes the Rapid Rapid?
Our Rapid lines use state-of-the-art features to give you a faster, easier, and more convenient ride than traditional bus service.
Here's why the Rapid is so fast:
The next bus is always coming
The 72R runs every 12 minutes on weekdays.
Rapid buses get the green light
Special "green light" traffic signal technology helps Rapid buses move smoothly through intersections with less time waiting at red lights.
Fewer and better stops keep buses going
Fewer bus stops, placed in better locations – like at the far side of intersections after the stoplight – help keep buses moving.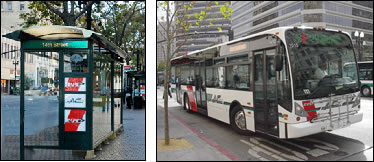 Easy-On, Easy-Off Buses
New 3- and 4-door, low-floor buses help riders get on and off quickly and easily.
Other features that make the Rapid convenient are:
Clearly marked buses and stops
Distinctive "Rapid" design on buses and stops make it easy to find the Rapid. And newer bus shelters make your short wait more comfortable.
Better information at stops
At Rapid bus stops you'll find posted schedules and rider info. Plus ACT RealTime real-time electronic signs at many stops let you know when the next bus is coming. If you want, you can access this service on your computer, PDA, or phone.