Be An AC Transit Bus Operator
Work at AC Transit!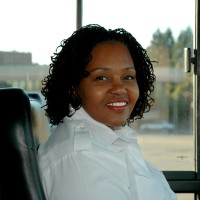 Operating AC Transit buses is an extremely rewarding yet challenging career. As an Operator representing the District, you are, in essence, the face of AC Transit. For this reason, we seek safety-oriented candidates that demonstrate excellence in customer service, a strong work ethic, and an exceptional record of attendance and punctuality.
Hundreds of riders are dependant on our Operators to get them to their destinations every day; for some, our service is an essential part of their lives. Can you represent the mission of our organization, to provide safe, convenient, courteous and reliable transit service? Are you ready for a career, not just another job? If so, we encourage you to apply.
What Does A Bus Operator Do? S/He:
Drives all models of buses, transporting passengers safely and courteously throughout the East Bay and across the Bay as well as connecting to other transportation systems.

Operates ADA (Americans With Disabilities Act) compliant equipment and assists passengers with disabilities.

Operates and monitors computerized fare boxes, electronic head signs, doors, two-way radios, etc.

Works with the Maintenance Department, Operation Control Center and other AC Transit employees regarding emergency situations.

Provides written and verbal reports to document incidents including accident reports, defect reports, memos regarding changes in routes, and exchanges with passengers for the purpose of identifying equipment failures and providing or corroboration information to other Drivers and/or Supervisors.

Observes and responds to emergency situations involving passengers, the public, or buses for the purpose of maintaining public/passenger safety and proper bus operation.
To Apply, You Must Meet These Minimum Qualifications:
Must be 23 years of age.
Must have a minimum of SEVEN (7) years driving experience (Commercial driving experience not required).

No more than one (1) moving violation in the past three (3) years.

No Failures to Appear (FTA) or Failures to Pay (FTP) in he past three (3) years.

No suspensions in the past three (3) years.

No reckless driving (23103) or Driving Under the Influence (DUI – 23152) in the past seven (7) years.

No pattern of irresponsible driving or irresponsibility related to driving.
We Also Require That Our Candidates:
Must be willing to work nights, weekends, holidays, and all shifts.

Must obtain a valid CA Class B driver license or permit with both passenger and air brake endorsements and with NO restrictions before the first day of training. (You do not need a Class B license or permit to apply for this position.)

Must pass a Department of Transportation (DOT) physical examination, including drug and alcohol screening tests.

ALL eligible candidates will be fingerprinted and screened for criminal history with the Department of Justice. Conviction of a crime is not necessarily a bar to employment. Each case will be given individual consideration on a case-by-case basis.
How To Apply
All applications MUST be submitted online. A resume must be attached to your application. A 10-year ("H6″) DMV printout is necessary and must be attached to your application, emailed to employment@actransit.org, or faxed to (510) 891-4703 . Completed applications supplemented by the H6 printout will be given first priority. Incomplete applications will be disqualified.
Screening Process
Applications will be screened for job-related qualifications. Only those candidate whose background, work experience, and driving history best fit the needs of the hiring department will be invited to participate in an examination process that may include written, oral and/or performance segments.
Compensation (Hourly Rates)
Training Wage…………………………………$16.99
Training Completed (Up to 1st year)………..$18.53
Next six (6) months (1 – 1.5 Yr)……………..$19.85
Next six (6) months (1.5 – 2 Yr)……………..$21.16
Next twelve (12) months (2 – 3 Yr)………….$22.48
Next twelve (12) months (3 – 4 Yr)………….$23.81
Top Rate………………………………………..$26.45
Besides Great Pay, We Offer You
Medical, dental, orthodontic, vision and prescription insurance coverage for employees and qualified dependents

Pension plan with an 8-year vesting

Up to 6 weeks of vacation depending on length of service

Free transportation on the AC Transit system
To apply, visit our careers portal: http://www.actransit.org/careers/  
For help with registering, please read our instructions at: http://www.actransit.org/instructions/
AC Transit is an Equal Opportunity Employer
Physical Requirements: What To Expect
By agency standards:
Ability to sit without discomfort for prolonged periods of time on a variety of drivers' seats in different models of buses and fit behind the steering wheel with clearance between abdomen & wheel.

Ability to turn head up to 180 degrees in either direction on a regular and frequent basis.

Ability to walk to enter and exit the vehicle.
Physical requirements for driving by Federal regulations:
Have vision at or correctable to 20/40 (

Snellen

), a field of vision of at least 70 degrees in the horizontal meridian in both eyes, and recognize the colors red, green, and amber.

Possess hearing in at least one ear allowing the perception of a whispered voice at five (5) feet.

Not currently have a diagnosis of diabetes

mellitus

requiring insulin for control, epilepsy or similar, myocardial infarction, angina

pectoris

, coronary insufficiency, thrombosis, or any other cardiovascular disease of a variety known to be accompanied by syncope,

dyspnea

, collapse, or congestive cardiac failure.

Have no loss of a foot, leg, hand, or arm, and be able to bend and control all of said limbs in order to grasp or push and otherwise operate all driving controls in a skillful manner without prostheses.
For Wheel Chair Tie-Downs:
Ability to bend, crouch and/or kneel and balance while simultaneously manipulating and fastening tie-down straps.
Find more information in our Frequently Asked Questions (FAQs) Section: http://www.actransit.org/busoperatorfaq