Double Deckers Are Rolling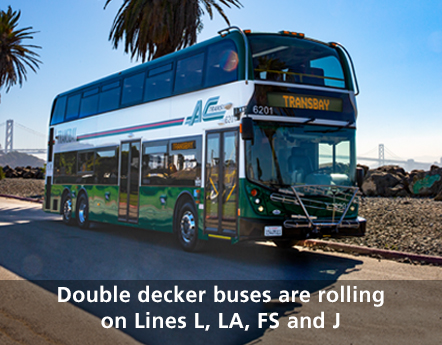 AC Transit continues its commitment to improve Transbay service with the introduction of double decker buses. These buses are brought to you by Transbay Tomorrow, a visionary AC Transit project dedicated to reduce overcrowding and improve congestion on the Bay Bridge. The double decker buses will increase capacity to 78 passengers per coach with amenities such as Wi-Fi, footrests, reclining seats on the upper deck and three bike racks, while offering sweeping panoramic views of the Bay.
The first phase of the rollout included Lines FS and J, two of the highest ridership routes, serving over 1,600 passengers daily. The second phase brings double decker buses to Lines L and LA on February 11, 2019. These two Transbay lines serve over 1,200 passengers daily.
AC Transit brand ambassadors are available during the rollouts to answer questions and offer safety tips for comfortable rides. For further information, please refer to the brochures available on buses, review the FAQ section below, check out our Ridership, Bus Fleet and Service page, or call Customer Service at 510-891-4777.
AC Transit staff is very pleased to bring this dramatic improvement to Transbay service, and hope you will enjoy the double decker experience.
FAQs
Q: Are there any special rules for riding the double decker bus?
A: Yes. For a safe and comfortable ride, please follow these tips:
Do not use the stairs when the bus is in motion.
Remain seated on the upper deck when the bus is in motion, even after you requested your stop.
Watch your step and hold the hand rails as you use the stairs to and from the upper deck.
Please remember: upper deck clearance is 5 feet 7 inches.
Always follow all instructions given by your operator.
Q: Why are double decker buses used only on Transbay lines?
A: During feasibly study and pilot testing, it was determined that the double decker buses would provide the most passenger benefit on Transbay lines.
Q: Why did you choose Lines FS, J, L and LA for the double decker buses?
A: AC Transit staff selected Transbay lines with highest ridership numbers, coupled with routes marked by minimal operational challenges, such as power lines and low-hanging tree branches.
Q: What are the accessibility features of the double decker bus?
A: The bus has a ramp that deploys from the front door and leads to two wheelchair securement and reserved seating areas.
Q: Does the bus have a bike rack?
A: Yes, there is a three-position bike rack mounted on the front of the bus. Folding bicycles are allowed inside the bus. You can find more information on rider guides on bikes here.
Q: Does this bus have Wi-Fi?
A: Yes, all AC Transit commuter buses, including the double decker buses offer Wi-Fi service.
Q: How tall is this bus compared to the green commuter buses (MCIs)?
A: An MCI is 11 feet 3 inches tall. This double decker bus is 13 feet 6 inches tall.
Q: Where was this bus manufactured?
The double decker buses for the U.S. market are manufactured in Nappanee, Indiana.
AC Transit continúa su compromiso de mejorar el servicio Transbay con la presentación de los autobuses de dos pisos. Estos autobuses son ofrecidos por Transbay Tomorrow, un proyecto visionario de AC Transit dedicado a reducir las aglomeraciones y mejorar la congestión en el Puente de la Bahía. Los autobuses de dos pisos incrementarán la capacidad hasta un máximo de 78 pasajeros por bus, con comodidades tales como conexión Wi-Fi, reposa-pies, asientos reclinables en el piso superior y tres portabicicletas, y además ofrecen majestuosas vistas panorámicas de la Bahía.
La primera fase de la implementación incluye a las líneas FS y J, dos de las rutas con un índice de pasajeros más alto, ya que dan servicio a más de 1,600 pasajeros cada día. La segunda fase trae a los autobuses de dos pisos a las líneas L y LA el 11 de febrero de 2019. Estas dos líneas de Transbay dan servicio a más de 1,200 pasajeros cada día.
Los embajadores de AC Transit estarán disponibles durante la implementación para responder a cualquier pregunta y ofrecer consejos de seguridad para tener un viaje confortable. Para más información, por favor vea los folletos disponibles en los autobuses y la sección de preguntas frecuentes en la página web , o llame al servicio al cliente al 510-891-4777.
El personal de AC Transit está encantado de traer esta dramática mejora al servicio Transbay, y espera que usted disfrute la experiencia de los dos pisos.
---
Preguntas Frecuentes
¿Hay normas especiales para viajar en el autobús de dos pisos?
Sí. Para un viaje seguro y confortable, por favor siga estos consejos:
No use las escaleras cuando el autobús esté en movimiento.
Manténgase sentado en el piso superior cuando el autobús esté en movimiento, incluso después de pedir su parada.
Tenga cuidado con los escalones y agarre los pasamanos cuando use las escaleras para subirse y bajarse del piso superior.
Por favor recuerde: la altura del piso superior es de 5 pies y 7 pulgadas.
Siempre siga todas las instrucciones dadas por su operador.
¿Por qué los autobuses de dos pisos se usan solo en líneas Transbay?
Durante el estudio de viabilidad y las pruebas de test, se determinó que los autobuses de dos pisos proporcionarían los mayores beneficios a los pasajeros en líneas Transbay.
¿Por qué se escogieron las líneas FS, J, L y LA para los autobuses de dos pisos?
El personal de AC Transit seleccionó las líneas Transbay con los mayores números de índice de pasajeros, junto con las rutas con menores barreras operacionales, como cables eléctricos y árboles con ramas.
¿Cuáles son las características de accesibilidad del autobús de dos pisos?
El autobús tiene una rampa que se activa en la puerta frontal y que lleva a las áreas reservadas de asientos y a dos sitios seguros para sillas de ruedas.
¿Tiene el autobús un Portabicicletas?
Sí, hay un portabicicletas de tres posiciones montado en la parte frontal del autobús. Las bicicletas plegables son permitidas dentro del autobús. Usted puede encontrar más información sobre guías para el pasajero con bicicleta aquí.
¿Tiene Wi-Fi este autobús?
Sí, todos los autobuses de AC Transit, incluyendo los autobuses de dos pisos, ofrecen servicio Wi-Fi.
¿Cuán alto es este autobús comparado con los autobuses verdes (MCIs)?
Un autobús MCI tiene una altura de 11 pies y 3 pulgadas. Un autobús de dos pisos tiene una altura de 13 pies y 6 pulgadas.
¿Dónde fueron fabricados estos autobuses?
Los autobuses de dos pisos para el mercado de los Estados Unidos se fabrican en Nappanee, Indiana.
L,LA,FS和J线的双层巴士已在进行中
我们为LA & L路投放双层巴士,不断地改善 Transbay 服务。这些巴士由 Transbay Tomorrow 项目为您呈现,该 AC Transit 项目旨在优化跨湾大桥的通勤,减缓拥挤。
每辆双层巴士将容纳多达78名乘客,巴士配备设施包括Wi-Fi,脚踏板,上层倾斜座椅,三个自行车架等,同时提供海湾全景视角。品牌大使将在巴士推出的前三天与乘客一起乘车,提供安全提示并回答问题。更多详情,请参阅巴士上提供的安全手册,查看网站上的常见问题解答,或致电 510-891-4777 联系客服。
我们很荣幸能够为大家改进服务,祝您有个愉快的双层巴士乘车体验。
---
常问问题
乘坐双层巴士是否有什么特别规定?
是。为了安全舒适的乘车体验,请您遵循以下几点提示:
巴士行驶时,请勿使用楼梯。
巴士行驶时,请上层的乘客保持坐稳,即使您已经请求下车。
当您使用楼梯进出上层甲板时,请注意您的脚步并握紧扶手。
请注意:上层净高为5英尺7英寸。
请始终遵循司机的指示。
为什么双层巴士仅用于 Transbay 线路?
在可行性的研究和试点测试期间,我们发现双层巴士的服务能够在 Transbay 线路上得到最大化的利用。
为什么选择FS,J,L和LA线使用双层巴士?
AC Transit 的工作人员选择了上座率最高,并且路线运营挑战最小的线路:例如电线和低悬的树枝。
双层巴士的上下车特性如何? 
巴士有一个从前门进入的坡道,通往两个轮椅固定区和预留的休息区。
巴士是否有自行车架?
是,巴士前方有一个三位自行车架。折叠自行车可带入车厢内。更多有关自行车的信息,请点击此处。
巴士上是否有 Wi-Fi?
是,所有的巴士,包括双层巴士都提供 Wi-Fi。
和绿色通勤巴士(MCIs)相比,这辆巴士多高?
MCI 巴士高11英尺3英寸。双层巴士高13英尺6英寸。
巴士由哪里制造?
美国的巴士产于印第安纳州的纳帕尼。