Promoting Public Transit
Here in the Bay Area, more air pollution comes from motor vehicles than from any other source. So every time someone takes an AC Transit bus instead of a car, we can all breathe a little easier.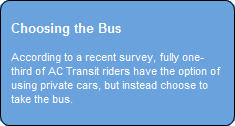 AC Transit provides and promotes public transit in order to reduce traffic congestion and improve the quality of life in the communities we serve. We update our scheduling and routing to maximize ridership. We participate in Urban Planning projects to encourage transit-oriented development.
AC Transit has begun construction on the East Bay's first Bus Rapid Transit!
Visit the website for detailed information on this project: AC Transit Bus Rapid Transit. Find out more about BRT: Follow on Facebook and Twitter for progress reports, community outreach and construction photos.
When public transit service is frequent and reliable, more people use it in place of their cars. With the introduction of the San Pablo Rapid, riders have seen their commute time drop by 20%. Ridership on the 72R line has increased by over 65%, and people are leaving their cars at home. See the Video.
Bus Rapid Transit goes beyond providing yet another alternative to the private car. Traffic signal priority for these buses keeps green lights green, which means less idling, which in turn means less pollution and greater fuel efficiency.
Public Outreach: Putting New Riders on Board
AC Transit's EasyPass programs are realizing the way to true mode shifts in public transportation. Prominent among the nation's universal pass programs, EasyPass is an easily affordable, annual, group transit benefit for groups of 100 or more — for employers, residential communities, and colleges. EasyPass gets pass holders anywhere AC Transit goes — anytime — for just pennies on the dollar!
The biggest obstacle to people using public transportation seems to be lack of knowledge. EasyPass programs show new riders how to get around. The "Try it, you'll like it" EasyPass creates new riders and encourages current customers to use public transportation more. Get EasyPass for your group and show others how you're on the leading edge for making a real difference to reduce your carbon footprint. Over 75,000 Bay Area residents have access to AC Transit's EasyPass programs today.
Even our improved signs and maps encourage more people to take the bus. When one can simply look at an electronic ACT RealTime sign to see when the next bus is coming, one can make effective plans and relax, knowing the trip will be on time and efficient.
With public outreach and targeted marketing, AC Transit actively encourages East Bay residents to choose public transit.