Reducing Emissions
Climate Action Plan
AC Transit Board Adopts Climate Action Plan for the Agency
The District's Climate Action Plan (CAP) was recently adopted by the AC Transit Board of Directors.  The CAP contains the District's CO2 emissions profile from 2006 through 2009 and presents the District's adoption of a 15% reduction target for entity-wide Scope 1 and Scope 2 emissions as measured by the TCR (The Climate Registry) intensity metrics:  emissions per total vehicle miles, emissions per revenue vehicle hours and emissions per passenger mile. By selecting these intensity targets rather than absolute targets, the District will be seeking to reduce the carbon intensity of our operations. Adopting a 15% reduction target is consistent with the California Air Resources Board's recommendation that entities target their 2020 emissions at 15% below current levels, a percentage that parallels the statewide 2020 commitment under Assembly Bill 32. Calendar year 2006 was selected as the District's baseline year since it is the first year of a verified emissions report.
The District plans on making significant progress towards meeting its 2020 CO2 emissions reduction targets through its existing and planned measures that are outlined in the CAP.  These measures include (but will not necessarily be limited in the future) to the following:  revenue fleet replacement with hydrogen fuel cell and diesel-electric hybrid buses; proper fleet maintenance; facility electricity use reduction; and increasing ridership.  However, due to the ever-changing nature of emerging technologies and to take advantage of new opportunities as they arise to reduce emissions, the CAP needs to be a living document that is regularly updated to identify and assess these new opportunities.
Reducing Greenhouse Gases
AC Transit was the first transit agency to join the California Climate Action Registry. As a Registry member, AC Transit began compiling an inventory of its greenhouse emissions in 2006, which was verified in 2007 by an independent monitoring organization, and made available to the public on the AC Transit and Registry web sites. AC Transit will continue to report its CO2 emissions annually. For its rigorous efforts, the Registry has named AC Transit a "Climate Action Leader."
Solar Roofs
AC Transit recently installed over 2500 photovoltaic (PV) solar panels on the roofs of its Hayward and Oakland-Seminary Divisions. These new PV systems deliver a significant portion of the power required to operate each facility during the day.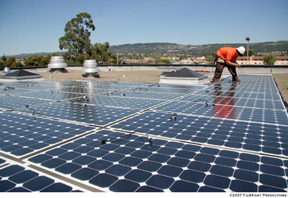 In Hayward, 1,650 PV panels mounted on the roofs of four buildings produce 315 kilowatts; almost 500,000 kilowatt hours per year.
In Oakland, 1,078 PV panels on the bus wash, fuel island, and bus maintenance buildings produce 177 kilowatts and 275,500 kilowatt hours per year, more than enough power to offset the 189,000 kWhr/year needed to operate AC Transit's steam reforming hydrogen production facility.
The two solar systems combined are expected to produce about 775,000 kilowatt hours of energy per year. This is equivalent to the electrical energy needed to power over 600 homes. In terms of reducing emissions, the AC Transit solar arrays are equivalent to taking 1,100 cars off the road or planting 1,500 acres of trees. We expect the systems to have a service life of at least 25 years.
You may download pictures from our solar photogallery.
Cleaner Engines
AC Transit has installed exhaust-after-treatment traps in all of its older buses. These traps not only cut particulate pollution by 85%; they also reduce nitrogen oxide emissions by an additional 25-30% and hydrocarbons and carbon monoxide by up to 90%. This program has helped AC Transit achieve a 95% reduction in particulate matter over the last ten years.
Cleaner Fuel
In 2002, AC Transit switched to an ultra-low sulfur fuel (15 ppm). According to the California Air Resources Board, this shift, along with improved exhaust after-treatment, results in a 76% average reduction in hydrocarbon emissions, a 29% average reduction in carbon monoxide emissions, and a 29% average reduction in particulate matter emissions.
In October 2007, we launched a new program to test two potentially even cleaner fuels: Biodiesel and GTL (Gas-to-Liquids) Diesel. Learn more about the Cleaner Fuels Test Program.
Cleaner Air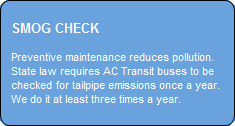 AC Transit's HyRoad Program aims to demonstrate to the world the viability of an emission-free transit fleet. Three state-of-the-art, zero-emission, hydrogen fuel cell buses operate from AC Transit's East Oakland Division. Also in the HyRoad program is a fleet of zero-emission, light-duty vehicles, one of several U.S. Department of Energy projects that support the research and development of highly efficient, low- or zero- emission fuel cell power systems.
Additional projects under development at AC Transit include:
Building, road-testing, and evaluating a prototype, state-of-the-art gasoline electric hybrid bus
Expansion of on-site hydrogen production and fueling capacity
The addition of at least five new generation fuel cell hybrid buses, featuring lighter and more compact components, a new body/chassis design that reduces overall weight by at least several thousand pounds, and enhanced on-the-road performance. This expansion of hydrogen facilities and buses is part of a Bay Area regional zero-emission bus advanced demonstration program mandated by the California Air Resources Board.