Reducing Emissions
Reducing Greenhouse Gases
AC Transit was the first transit agency to join the California Climate Action Registry. As a Registry member, AC Transit began compiling an inventory of its greenhouse emissions in 2006, which was verified in 2007 by an independent monitoring organization, and made available to the public on the AC Transit and Registry web sites. AC Transit continues to report its CO2 emissions. For its rigorous efforts, the Registry has named AC Transit a "Climate Action Leader."
Solar Panels
AC Transit has installed solar panels on the roofs of its Hayward and Oakland-Seminary Divisions. These PV systems deliver a significant portion of the power required to operate each facility during the day.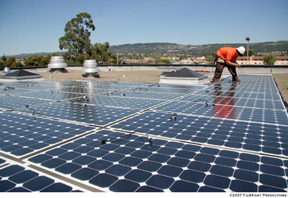 You may download pictures from our solar photogallery.
Cleaner Engines
AC Transit has installed exhaust-after-treatment traps in all of its older buses. These traps not only cut particulate pollution by 85%; they also reduce nitrogen oxide emissions by an additional 25-30% and hydrocarbons and carbon monoxide by up to 90%. This program has helped AC Transit achieve a 95% reduction in particulate matter over the last ten years.
Cleaner Fuel
In 2002, AC Transit switched to an ultra-low sulfur fuel (15 ppm). According to the California Air Resources Board, this shift, along with improved exhaust after-treatment, results in a 76% average reduction in hydrocarbon emissions, a 29% average reduction in carbon monoxide emissions, and a 29% average reduction in particulate matter emissions.
In October 2007, we launched a new program to test two potentially even cleaner fuels: Biodiesel and GTL (Gas-to-Liquids) Diesel. Learn more about the Cleaner Fuels Test Program.
Cleaner Air
AC Transit's HyRoad Program aims to demonstrate to the world the viability of an emission-free transit fleet. Three state-of-the-art, zero-emission, hydrogen fuel cell buses operate from AC Transit's East Oakland Division.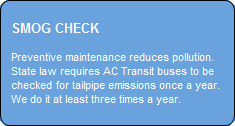 Additional projects under development at AC Transit include:
Building, road-testing, and evaluating a prototype, state-of-the-art gasoline electric hybrid bus
Expansion of on-site hydrogen production and fueling capacity
The addition of at least five new generation fuel cell hybrid buses, featuring lighter and more compact components, a new body/chassis design that reduces overall weight by at least several thousand pounds, and enhanced on-the-road performance. This expansion of hydrogen facilities and buses is part of a Bay Area regional zero-emission bus advanced demonstration program mandated by the California Air Resources Board.