The HyRoad
Environmental sustainability goes hand-in-hand with AC Transit's core mission: providing safe, reliable, and efficient public transit service.


Stay up to date with our daily environmental happenings by following our Twitter feed @act_environment






By providing public transit to over 227,000 riders every day, we are keeping tens of thousands of cars off the roads—and keeping their pollution out of the air.
By adopting and developing the latest technologies, we are not only reducing our own emissions, we are also serving as a model transit agency for the entire country.
Please take a closer look at some of what we are doing:
With these initiatives, AC Transit is on the road to creating a safer, cleaner, more efficient transit system.
The Program
Fuel cell buses are clean, quiet, electrically propelled vehicles that emit only water vapor from the tailpipe.
Since 2000, AC Transit has built one of the most comprehensive hydrogen fuel cell demonstration programs in the United States, featuring:
A growing fleet of zero-emission hybrid-electric, hydrogen fuel cell buses 
On-site hydrogen production and fueling
On-site fleet maintenance
Ongoing, outside evaluation
Public education and safety training
The Buses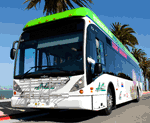 From March 2006 through mid-2010, AC Transit operated three fuel cell buses, logging over 270,000 miles and carrying over 700,000 passengers, all while achieving significantly greater overall energy efficiency than diesel buses.
AC Transit is currently operating thirteen third-generation fuel cell buses. These coaches feature a redesigned chassis that is 5,000 pounds lighter than the earlier  buses. Each bus is powered by a 120 kW fuel cell power system, built by UTC Power of Connecticut, and an advanced lithium ion energy storage system by Enerdel of Indiana.
Hydrogen tanks on the roof give the bus a range of 220 to 240 miles, and batteries recharged during braking can provide extra power for acceleration and climbing steep grades.
By thesummer of 2019, the AC Transit fuel cell fleetwill have exapanded to 24 vehicles.
Hear what US Secretary of Transportation Ray LaHood has to say:


Hear what AC Transit drivers and mechanics are saying:

Hear what national politicians are saying:

Ride a Fuel Cell Bus
Led by AC Transit, a group of regional transit agencies (Golden Gate Transit, SamTrans, VTA, and Muni) called Zero Emission Bay Area (ZEBA) is operating zero-emission fuel cell buses in real-world service throughout the region. Look for a Fuel Cell Bus on a route near you.
The Funding
AC Transit's HyRoad program is supported entirely by generours grants from the California Energy Commission, California Air Resources Board, Bay Area Air Quality Management District, Metropolitan Transportation Commission, and the Federal Transit Administration. This money has been tagged specifically for fuel cell development and may not be used for any other purpose.
Independent Evaluation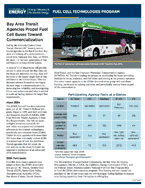 The potential importance of the HyRoad program goes far beyond the health of our local environment. The purpose of this demonstration project is to prove the viability of a zero-emission public transit system to the rest of the world. AC Transit's program is being monitored and evaluated by the Department of Energy's National Renewable Energy Laboratory (NREL). Vehicle performance, as well as institutional and public acceptance, is being studied. The NREL analysis confirms that the AC Transit fuel cell buses are achieving significantly greater fuel economy than diesel buses, all while emitting zero pollution.
Click on the links to download the June 2010 and October 2010 reports.
See also NREL's Fact Sheet about AC Transit's prototype fuel cell buses.