Program Updates
Energy Station Upgrades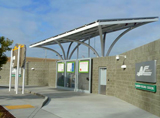 Our Emeryville fueling facility has been operational since late 2011. Congresswoman Barbara Lee, Chair of the California Air Resources Board Mary Nichols and a dozen other federal, state, and local officials joined in the dedication ceremony and praised AC Transit for being "a pioneer in bringing fuel cell technology into the community and demonstrating its virtues for clean air and energy efficiency."
In March of 2013, we commissioned a 420kW Bloom Energy solid oxide stationary fuel cell system that uses biogas. This system provides all the electrical power needed at our Oakland operating division, and additionally feeds power back to the local utility power grid.
Evaluation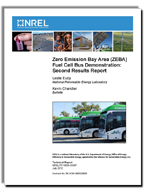 A primary goal of the HyRoad program is to demonstrate the viability of zero-emission public transit to the nation and to the world. Our demonstration fleet of fuel cell vehicles is being evaluated for performance and public acceptance by the Department of Energy's National Renewable Energy Laboratory (NREL).
In June, 2010, NREL published a report on its evaluation of fuel cell buses in service at AC Transit in Oakland, California. This report results and experience through February, 2010. The evaluation covers three prototype fuel cell buses in comparison to six diesel baseline buses operating from the same bus depot. During the data collection period (Apr 2006 – Feb 2010), AC Transit operated the fuel cell buses nearly 225,000 miles with an overall fuel economy of 6.60 miles per kg, which equates to 6.85 miles per diesel equivalent gallon. For comparison, AC Transit's diesel buses had a fuel economy of 4.2 mpg during the same timeframe. Using this as a baseline, this last generation of fuel cell buses had a 61% better fuel economy than diesel buses. According to the NREL report, the fuel economy advantage for the current generation of buses, which AC Transit has just begun to operate, is expected to increase.
Awards and Recognition
AC Transit has been recognized both nationally and internationally for its advanced environmental technology initiatives.
January 2013
California's Governor Jerry Brown recognized AC Transit's achievements by awarding it with the 2012 Governor's Environmental and Economic Leadership Award (GEELA) for building the most comprehensive hydrogen fuel cell demonstration program in the country.
July 2012
AC Transit's team has been recognized with an Annual Merit Review Award from the Department of Energy for their leadership role in demonstrating the viability of an emissions-free transit system.


Stay up to date with our daily environmental happenings by following our Twitter feed @act_environment