Exchange Form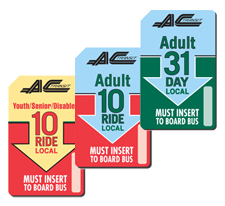 Click here to download the ticket exchange form.
You can use this form to exchange Adult 31-Day, Adult 10-Ride, and Youth/Senior/Disabled 10-Ride tickets. (Tickets issued prior to the July 2009 fare increase will not be accepted.)
Complete the form and mail it to AC Transit with your paper tickets. You can also bring the form in person to the AC Transit Ticket Office at 1600 Franklin Street, Oakland, Monday-Friday, 8:00 a.m. – 5:00 p.m.
Tickets can be exchanged through February 28, 2011.