The Major Corridors Study
Draft Final Report
The Draft Major Corridors Final Report is available here:
Final Major Corridors Study Report-August 2016
APPENDICES: Major Corridors Study Report-August 2016
About the Study
On an average weekday, about 100,000 people ride buses on AC Transit's 11 major corridors, which carry over half of the agency's total ridership. However, buses often get stuck in traffic and schedules become unreliable.
AC Transit is conducting the Major Corridors Study to identify infrastructure investments that will help buses run faster and more reliably on these key transit corridors. The study's goal is to improve customer satisfaction and increase ridership.
East Bay Is Growing
Population and jobs in AC Transit's service area are forecasted to grow 30% and 40% by 2040, respectively, while roadway capacity in the area is expected to remain the same. Travel forecast models estimate that the AC Transit's system-wide ridership would double by 2040 even if no additional transit service or infrastructure investments were made.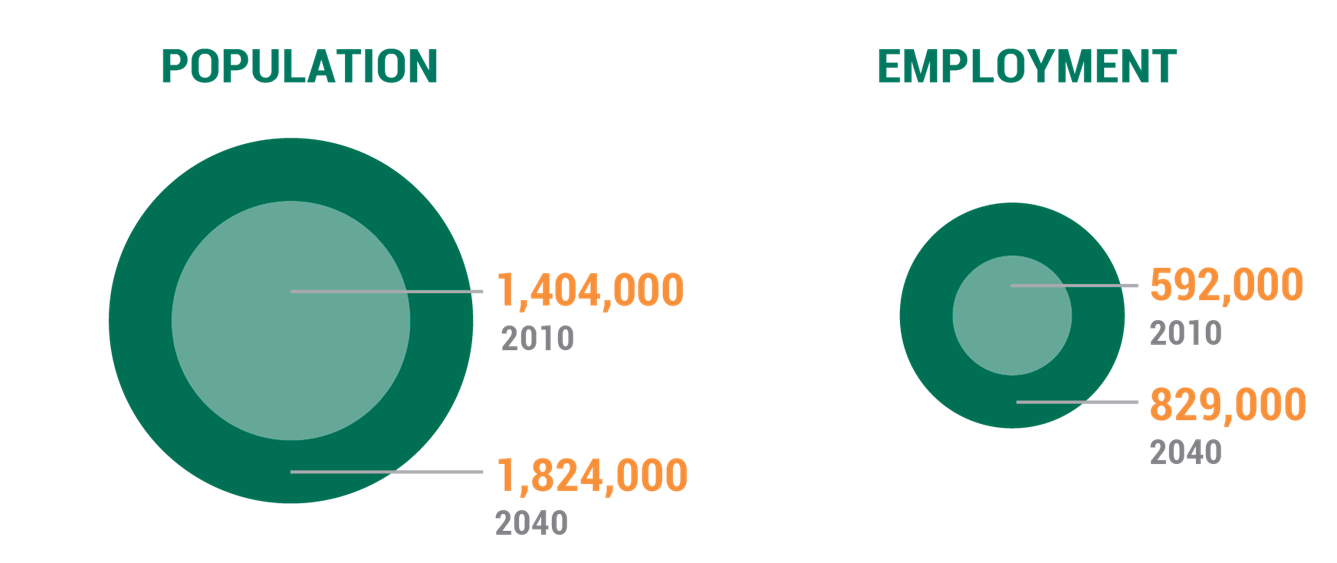 Major Corridors Investment Strategies
In order to identify appropriate capital improvement alternatives for further evaluation, the study team reviewed existing and future conditions. Factors included in the screening process were projected household density in 2040, right-of-way width, and operational considerations. Three bus transit investment strategies considered were the following:
1. Enhanced Bus
2. Rapid Bus
3. Bus Rapid Transit (BRT)
The screening process identified the highest investment strategy for a particular corridor based on the technical screening criteria.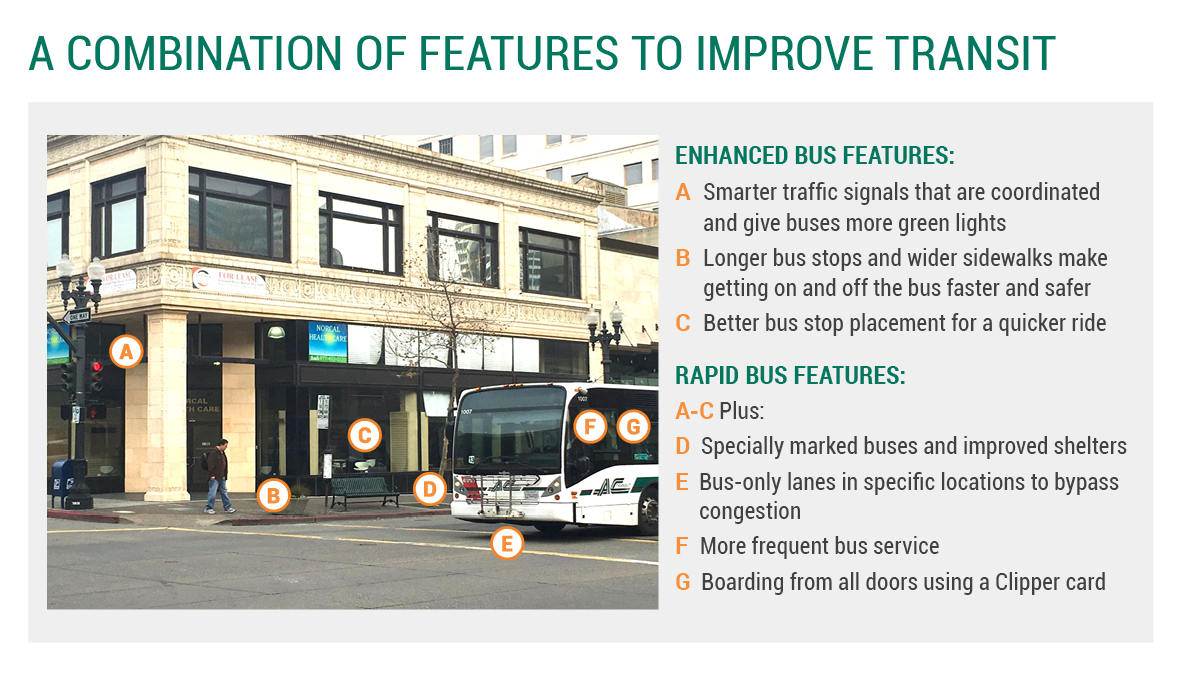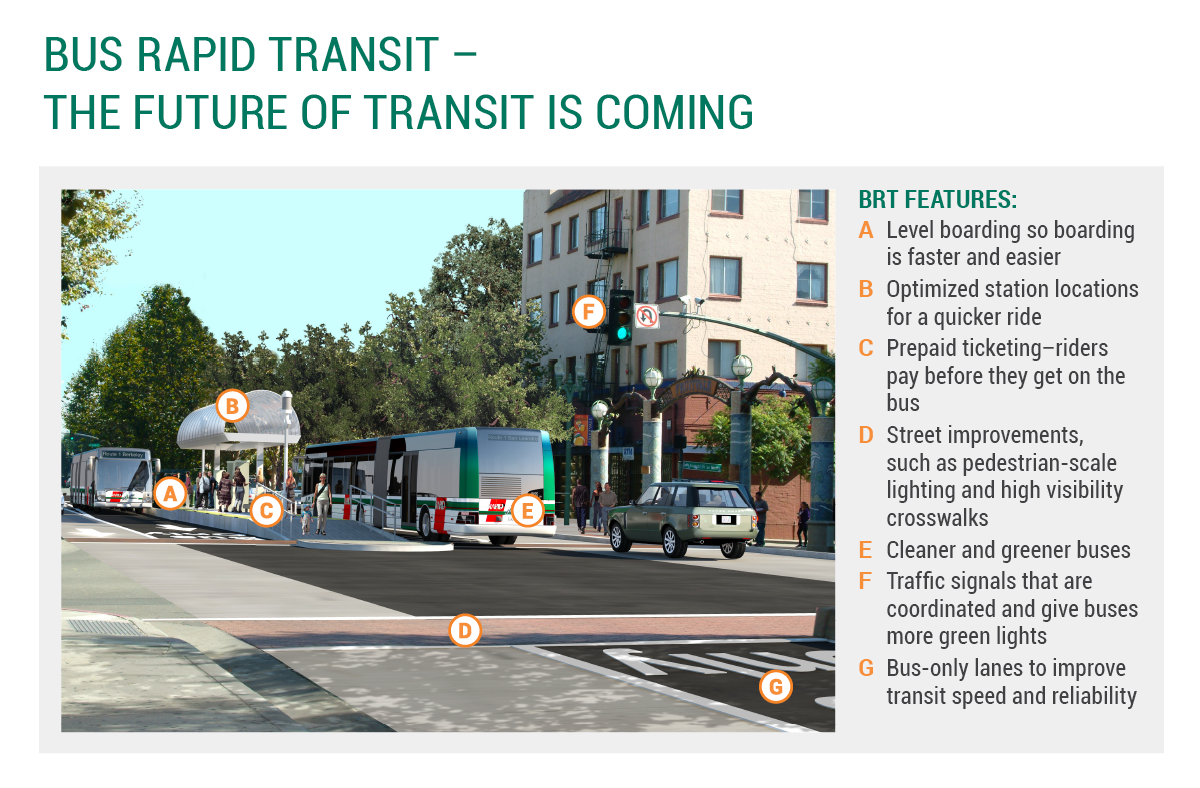 Benefits of Investing In Transit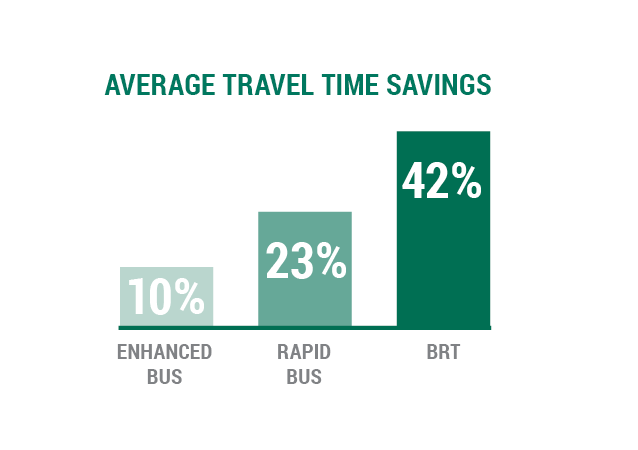 Schedule
Through a series of technical advisory committee meetings and public outreach meetings, AC Transit hopes to a reach a final plan by summer 2016.

Learn More About the Study
Study Corridors
Upcoming meeting information.
Library
Links