Overview: Alameda/Oakland/Piedmont Proposed Improvements
This planning area includes the cities of Alameda, Oakland, and Piedmont. It is defined as the area south of Berkeley and Emeryville and north of the San Leandro/Oakland border. The area contains the highest densities of the AC Transit district and includes the most transit service. It also includes the five most heavily used, most frequently served and least reliable transit corridors in the district: San Pablo, Telegraph/International, College/Broadway, MacArthur and Foothill. The primary central business district is Downtown Oakland, though there are also dense commercial areas in other parts of the City, as well as in Alameda.
AC Transit proposes the following changes to improve service and reliability.
Increase frequency where possible. Apart from trunk routes, most routes in this planning area run every 20 to 30 minutes or less often.
Establish a grid network where the road network allows.
Create simple yet productive north/south and east/west transit corridors.
Simplify the route structure to make the network more legible and usable by the public, including current non-transit riders. This is particularly relevant to the route network design in East Oakland.
Serve under-served commercial and residential markets such as Jack London Square and West Oakland.
Match service with development growth throughout the planning area, including Downtown Oakland and parts of Alameda.
Today's service levels are higher in this area compared to the other planning areas, but the service is still not sufficient for most people to comfortably rely on bus service as a primary travel mode, particularly since the 2010 service reductions. Service is particularly weak in the evening and on weekends.
Please note: The initial vote to approve proposed changes as part of the SEP will take place Jan. 13, 2016. In addition to a delay in the vote to approve the changes, a number of proposals are being further delayed and thus removed from the plan and from that vote in January. This will allow AC Transit staff to conduct additional outreach and to work with the affected communities.
Staff is withdrawing the Line 72/72M/72R proposal from the SEP process. We will conduct focused planning and outreach activities to ensure there is stakeholder and public input on service alternatives for the corridor.
Here is a side-by-side comparison of improvements to frequency in this area. As you can see, there is significantly more frequent service and less infrequent service: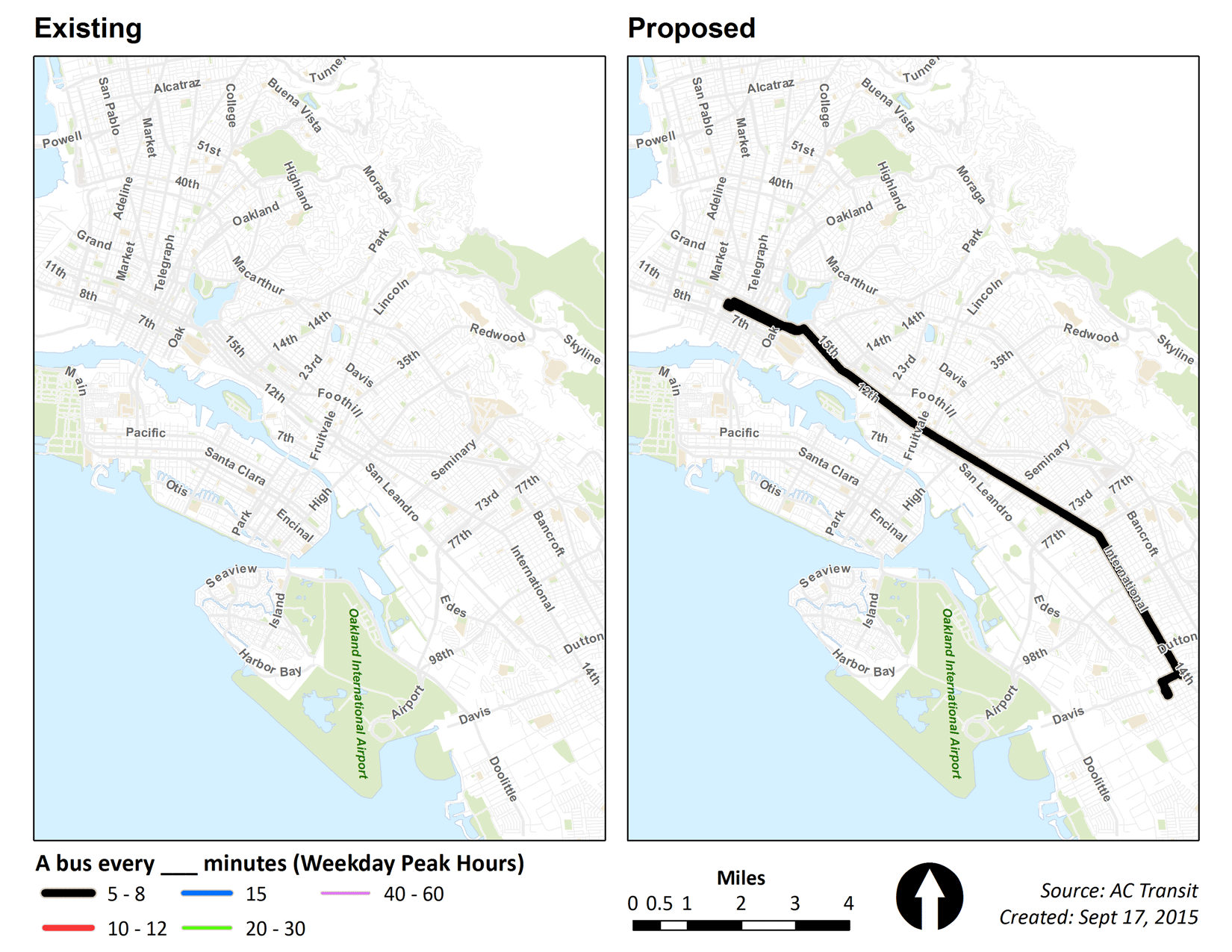 (Non-animated versions of these maps are also available.)
Comments received to date on the proposals have generally favored the improved frequencies and connections between West Oakland and Emeryville, West Berkeley, Downtown Oakland, and beyond. Some route adjustments were made to proposal L22 Dwight in order to improve frequency and connectivity along Adeline and provide better access to frequent service for more residents in West Oakland. Proposal L19 was modified to provide continued service to West Oakland BART from Lakeshore and Emeryville. Taken together, proposals L22 and L19 will provide service every 10 minutes between West Oakland BART and Emeryville.
Staff also adjusted proposal L23 MLK/Solano to maintain a high frequency, linear route from downtown Oakland to downtown Berkeley via Martin Luther King Jr Way, continuing onto the Solano district and UC Village. Proposal L20 was modified to maintain existing levels of service on Grand Ave and introduce a Grand Lake to Jack London Square connection. Both L23 and L20 were adjusted to provide direct service to downtown Berkeley from MLK and Grand Avenues.
There were some concerns raised regarding the proposed elimination of Line 58L. Staff is therefore proposing to invest some resources from the 58L into increasing the frequency of the NL every 15 minutes during peak periods and 20 minutes in the off peak, in order to maintain a frequent connection from the MacArthur corridor to 20th Street (the remaining line 58L resources will be reinvested in the 57 extension to Emeryville). This increase in service will be benefit the majority of 58L riders who do not travel past 20th and Broadway, while providing a simplified and clearer service structure on MacArthur Blvd. Riders continuing down Broadway to Jack London Square will be able to transfer to one of four lines, with combined average service every 3 minutes.
To receive updates on AC Transit's service expansion plan, subscribe to AC Transit's eNews. Enter and confirm your email address and select the Plan ACT topic under AC Transit Information.
Here are the specific route-by-route service improvement recommendations with links to individual route profiles and a comment card where you can provide feedback:
NOTE: The route numbers are for planning purposes only and AC Transit will develop a more conventional numbering system during the implementation process.
Frequency (Min)
Span
Existing
Route
Proposal
New Route
Peak
Base
Start
End
Reason for change
1/1R
Split long route at Downtown Oakland. Create consolidated service on Telegraph Ave between Downtown Oakland and Downtown Berkeley with 1/3-mile stop spacing. Create consolidated service on International Blvd from San Leandro BART to Downtown Oakland until implementation of International Bus Rapid Transit (BRT) in 2017. Extend Line 99 from Bay Fair BART to San Leandro BART and Oakland border.
M6 Telegraph
10
12
5am
12am
Lines 1 and 1R suffer from poor on-time performance. Splitting the route will help AC Transit better schedule routes for traffic conditions. These routes will also be split when International Bus Rapid Transit (BRT) is implemented. Wider stop-spacing on Telegraph is intended to improve speed and reliability for consolidated service on the corridor.
M7 International Local
8
10
5am
12am
M3 E. 14th St
15
15 (20)
5am
12am
11
Split route in Downtown Oakland.
L16 Oakland/Park
15
15 (20)
6am
12am
Route changes allow AC Transit to concentrate frequent service on route segments serving very dense areas without alternative frequent transit options. Service to Inverleith would be maintained at every 30 minutes on weekdays. Introduce weekend service on 14th Ave.
Connect Oakland Av/Harrison Av segment (Downtown Oakland-Piedmont) with Park Blvd segment of existing Line 18.
Connect 14th Av segment (Dimond District-Downtown Oakland) to Alameda segment (Downtown Oakland-Alameda Point) of existing Line 31.
L28 14th Av
30
30
6am
10pm
12
Realign route with Line 18 in Temescal.
L23 MLK/Solano
15
15 (20)
6am
12am
Allows AC Transit to serve densest, mixed-use areas with more frequent service.
Direct service from Downtown Oakland to Downtown Berkeley via MLK, continuing via Shattuck to North Berkeley and Solano District.
Jack London Square to Grand Lake via Broadway and Grand, continuing via Piedmont Av and Shattuck Av to Downtown Berkeley and to Gilman district via Hopkins and Gilman
L20 Shattuck/Grand
20
20
6am
11pm
14
Extend existing Line 14 to West Oakland via 14th Street, Wood, and 7th Street.
L17 14th/High
15
15
(20)
5am
12m
(10pm)
Increase east-west frequency on 14th Street to better connect West Oakland to Downtown Oakland and East Oakland.
18
Realign route with Line 12 in Temescal and Downtown Oakland.
L20 Shattuck/Grand
20
20
6am
11pm
Maintain or improve frequency on most segments. Offer new connections in Albany, Berkeley, and Oakland. Maintain direct connections between downtown Berkeley and downtown Oakland. Maintain direction connections between Berkeley and Grand Lake with improved frequency.
Jack London Square to Grand Lake via Broadway and Grand, continuing via Piedmont Av and Shattuck Av to Downtown Berkeley and to Gilman district via Hopkins and Gilman
Direct service from Downtown Oakland to Downtown Berkeley via MLK, continuing via Shattuck to North Berkeley and Solano District.
L23 MLK/Solano
15
15 (20)
6am
12m
Connect Oakland Av/Harrison Av segment (Downtown Oakland-Piedmont) with Park Blvd segment of existing Line 18.
L16 Oakland/Park
15
15 (20)
6am
12m
20
Terminate at 14th and Broadway
20 Shoreline/Park
21
No change
26
Simplify route by eliminating "loop" through West Oakland. Provide more direct connection between West Oakland, Emeryville, and Downtown Oakland
L19 Lakeshore/Hollis
20
20
6am
10pm
Simplify route. More direct connection between Downtown Oakland and Emeryville.
31
Split route in Downtown Oakland. Connect Alameda segment (Downtown Oakland–Alameda Point) to 14th Av segment (Dimond District-Downtown Oakland) of existing Line 11. Connect Peralta segment to Downtown Oakland and Lakeshore.
L19 Lakeshore/Hollis
20
20
6am
10pm
Increase span of service on Peralta and 14th Av. Maintain or improve frequency on all segments. Provide weekend service to 14th Ave.
L28 14th Av
30
30
6am
10pm
40
No change
45
No change
46
No change
47
No change
49
Split route.
L22 Dwight
20
20
6am
12m
Increase frequency on a majority of the route. Offer new connections between Albany, Berkeley, Emeryville, and Oakland. Improve legibility of network.
Serve Dwight with 20-minute service between UC Berkeley Campus, Emeryville, and West Oakland.
Connect Ashby to 4th Street with service every 15-minutes, with every other trip continuing to Berkeley Marina or Plaza BART via UC Village and Pierce St.
L21 Ashby
15
15
(20)
6am
12m
Serve Claremont with 30-minute route connecting Plaza BART via Colusa to Downtown Berkeley, UC Berkeley campus, Claremont, and Rockridge BART
L15 Colusa–Claremont
30
30
6am
10pm
(8pm)
51A
No change
51A Broadway
51B
Service to Berkeley Marina replaced by L21 Ashby.
51B College-University
Improve reliability and legiblity of route by removing alternating 51B service to Berkeley Marina.
54
No change
57
Extend Line 57 to Emeryville Public Market via 40th Street and Shellmound.
M5 Macarthur
15
15
5am
12m
Restore direct service to major employment and shopping destination.
58L
Eliminate route. Re-invest hours and buses on MacArthur corridor to extend Line 57 to Emeryville and increase frequency of NL
M5 Macarthur
15
15
5am
12m
Discontinued due to very low ridership to downtown Oakland. Improve corridor legibility by investing resources in 57 and NL.
NL Macarthur
15
20
(30)
5am
12m
62
Increase frequency in peak and off peak
62 7th St/23rd Av
15
20
6am
12m
Increase frequency on high-productivity route. Improve network connectivity.
72/72M/72R
Staff is withdrawing these proposals from the SEP process. We will conduct focused planning and outreach activities to ensure there is stakeholder and public input on service alternatives for the corridor.
73
No change
88
Increase peak frequency to 15 minutes.
15
20
6am
12m
(10pm)
Improve network by creating frequent north-south corridor between San Pablo Av and Shattuck Av.
98
Split into two routes
L13 85th/90th Av
20
20
(30)
6am
11pm
(10pm)
Split loop route into two routes with distinct end-points with greater demand for travel.
L14 98th Av
20
20
(30)
6am
11pm
(10pm)
NL
Peak frequency increased to 15-minutes, 20-minutes midday.
NL Macarthur
15
20
(30)
5am
12m
Frequency increased with reinvested hours from Line 58L to provide more legible service from MacArthur Corridor to Downtown Oakland and SF.
O
New line from Fruitvale BART to Main Street Ferry Terminal via existing Line 20 route.
L2 Shoreline
30
30
6am
10pm
Shortening Line O allows resources to be reinvested in a creating a new line. There are three alternatives proposed, only one of which can be chosen: 1) Overlap Line 20 with L2 Shoreline to increase frequencies on existing Line 20 route to 15 minutes; or 2) Introduce new 30 minute service via L2 Encinal; or 3) Introduce a new 30 minute service via L2 Buena Vista.
New line from Fruitvale BART to Main Street Ferry Terminal via Encinal/Central.
L2 Encinal
30
30
6am
10pm
New line from Fruitvale BART to 12th Street BART via Buena Vista.
L2 Buena Vista
30
30
6am
10pm
O service brought back to old terminus at Tilden with realignment to continue straight on Encinal and Central.
T1 Encinal
15
60
6am
10pm