Overview: Richmond/San Pablo/El Cerrito Proposed Improvements
West Contra Costa County is the northernmost portion of the AC Transit district, defined as the area south of Pinole and north of the Contra Costa/Alameda County border. It includes the cities of Richmond, San Pablo, and El Cerrito, and unincorporated areas of Contra Costa County including North Richmond, East Richmond Heights, El Sobrante, and Kensington. Though not as dense as northern Alameda County, West County includes dense residential and commercial land uses primarily along the major corridors of San Pablo Avenue and MacDonald Avenue. In addition, it includes a commercial/light industrial area in South Richmond Marina and a major retail hub at Hilltop Mall. Contra Costa College is a major community college in San Pablo.
Since West County does not receive an increase in operating revenue from Measure BB, the improvements under the SEP will be limited to the following:
Explore simplifying the route structure along San Pablo and MacDonald avenues.
Improve connections between West County and North County outside of San Pablo Avenue.
Improve all routes to 30-minute frequency or better.
Provide better service tounder-served or emerging markets such as the Social Security Office near Hilltop Mall and the future Lawrence Berkeley Laboratory facility near the Richmond Marina.
In response to comments received, several route proposals have been changed to maintain coverage in neighborhoods with circuitous street patterns and maintain frequency of service between Contra Costa College and Hilltop Mall. Overall, the comments received to date have strongly supported the increased spans and frequency proposed.
Please note: The initial vote to approve proposed changes as part of the SEP will take place Jan. 13, 2016. In addition to a delay in the vote to approve the changes, a number of proposals are being further delayed and thus removed from the plan and from that vote in January. This will allow AC Transit staff to conduct additional outreach and to work with the affected communities.
Staff is withdrawing the Line 72/72R/72M proposal from the SEP process. We will conduct focused planning and outreach activities to ensure there is stakeholder and public input on service alternatives for the corridor.
Given the limited resources available for service improvements, AC Transit will need to phase the recommendations described above based upon the availability of additional revenues. These could include a potential county-wide sales tax measure in 2016 for transportation improvements, including AC Transit.
To receive updates on AC Transit's service expansion plan, subscribe to AC Transit's eNews. Enter and confirm your email address and select the Plan ACT topic under AC Transit Information.
Here is a side-by-side comparison of improvements to frequency in this area. As you can see, there is significantly more frequent service and less infrequent service: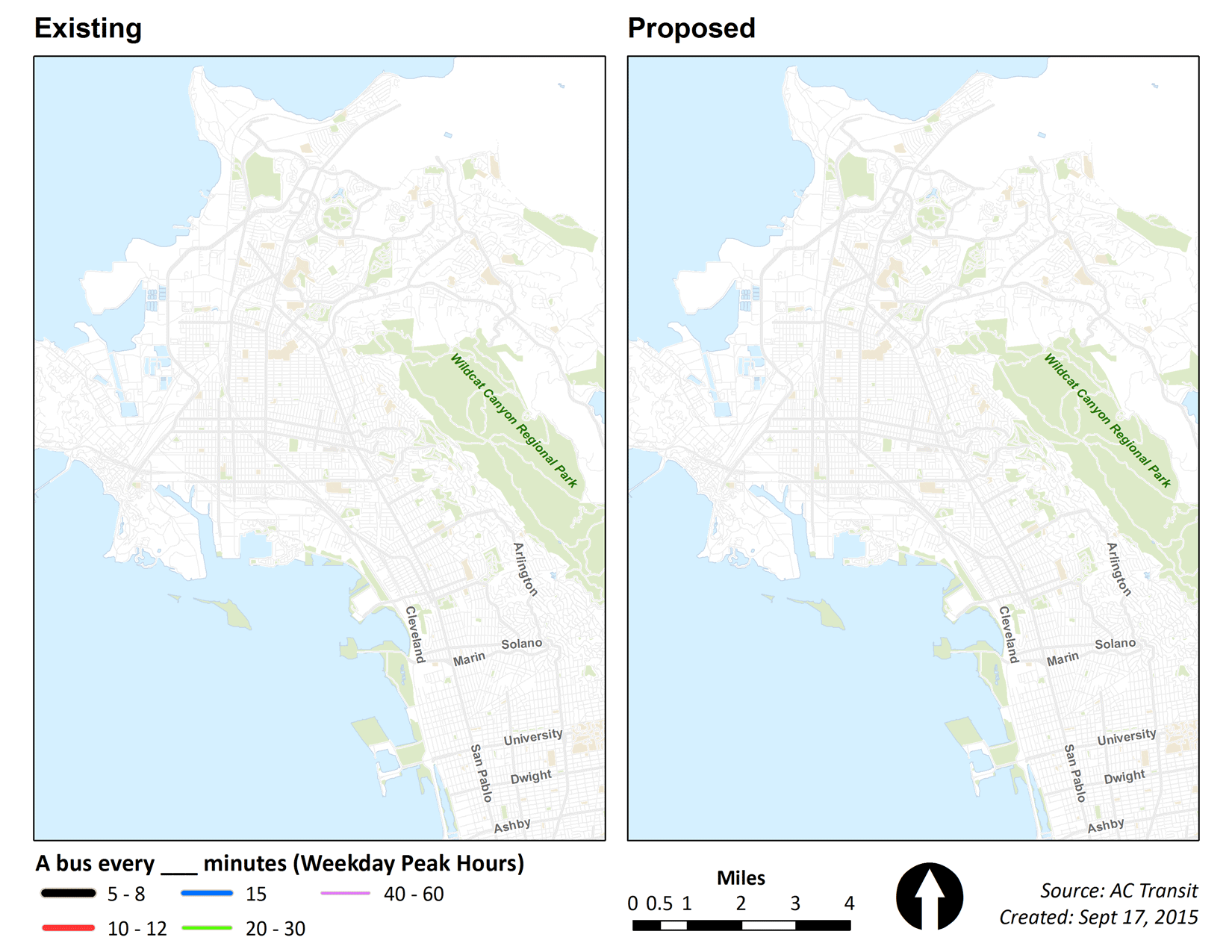 (Non-animated versions of these maps are also available.)
Here are the specific route-by-route service improvement recommendations with links to individual route profiles and a comment card where you can provide feedback:
NOTE: The route numbers are for planning purposes only and AC Transit will develop a more conventional numbering system during the implementation process.
Frequency (Min)
Span
Existing
Route
Proposal
New Route
Peak
Base
Start
End
Reason for change
7
Maintain existing route. Increase frequency from 40-minutes to 30-minutes
7 Arlington
30
30
6am
10pm
(8pm)
Line 7 serves a relatively dense area with limited access to transportation alternatives.
25
Split route.
L15 Colusa-Claremont
30
30
6am
10pm
(8pm)
Increase frequency on a majority of the route. Offer new connections between Albany, Berkeley, El Cerrito, Oakland, and Richmond. Improve legibility of network.
Connect Colusa segment of existing Line 25 (Downtown Berkeley–Plaza BART) with Claremont segment of Line 49.
Serve Gilman/Hopkins segment of existing Line 25 (Gilman–Downtown Berkeley) with new line extending from Shattuck.
L20 Shattuck/Grand
20
20
6am
11pm
Serve Pierce Street segment (from Plaza BART to 4th Street) with new line extending from Ashby Av. Ashby to 4th Street will be 15 minutes with every other trip going to Plaza BART or to the Berkeley Marina.
L21 Ashby
15
15/20
6am
12m
70
No change to route. Span extended to 10pm.
30
30
6am
10pm
71
No change to route. Span extended to 10pm.
30
30
6am
10pm
72/72M/72R
Staff is withdrawing these proposals from the SEP process. We will conduct focused planning and outreach activities to ensure there is stakeholder and public input on service alternatives for the corridor.
74
Create 30-minute route from Marina Bay to Hilltop Mall.
L26 23rd/Regatta
30
30
6am
10pm
New routes will create combined 15-minute service between Richmond BART and Hilltop Mall via 23rd.
Extend Line 74 to serve Hilltop Mall and Rollingwood neighborhood. End at Richmond BART.
L27 23rd Ave/El Sobrante
76
No change to route. Span extended to 10pm.
76 Cutting/Market
30
30
6am
(8am)
10pm
(10pm)