Overview: San Leandro/Hayward Proposed Improvements
Central Alameda County in AC Transit's service area is defined as the planning area south of Oakland and north of Union City and includes the cities of San Leandro and Hayward, and the unincorporated areas of Alameda County, including Castro Valley, Ashland, Cherryland, and San Lorenzo.
With the exception of lines 97 and 99, service in Central County is infrequent, carries fewer passengers and is less productive than the AC Transit average, receiving 13 percent of revenues for service while carrying only nine percent of the District's ridership. Today's low ridership is partially due to the fact that a majority of the routes in Central County operate at hourly frequencies with six loop routes. In addition, the planning area includes low density residential neighborhoods, industrial areas and central business districts that are smaller than those of Oakland or Berkeley. Much of Central County has radial, rather than grid, patterns of streets, which make it harder to operate efficient bus routes and provide effective service.
Due to the low productivity of service in Central County, AC Transit offers the following proposals.
Significantly overhaul the existing infrequent network and replace all 60-minute frequency service with 30-minute frequencies or better.
Loop routes will be replaced with straight routes to simplify the network.
Design the weekend network to be identical to the weekday network in order to minimize confusion and improve weekend ridership. Overall, this will result in somewhat less coverage in the area, though the vast majority of existing riders will still have access to the new and improved service network.
Comments received on the initial proposals were generally favorable and supportive of increased frequencies, expansion of night and weekend service, and elimination of circular and hourly routes. In order to increase frequencies on all routes to 30 minutes or better, some unproductive route segments had to be eliminated. Most comments pertained to eliminated route segments. As a result, staff made a number of modifications to the service proposals in order to preserve service on the majority of route segments in central Alameda County. Proposal L83 will be extended from Hayward BART to Castro Valley BART via Foothill Blvd and Grove. The plan also now preserves all existing Line 32 and 93 segments through Ashland and Cherryland. In addition, staff adjusted the L4 Whitman and L11 South Hayward proposals to preserve service on the majority of segments currently served by lines 37 and 85, while maintaining the proposed hourly to half-hourly frequency improvements.
To receive updates on AC Transit's service expansion plan, subscribe to AC Transit's eNews. Enter and confirm your email address and select the Plan ACT topic under AC Transit Information.
Here is a side-by-side comparison of improvements to frequency in this area. As you can see, there is significantly more frequent service and less infrequent service: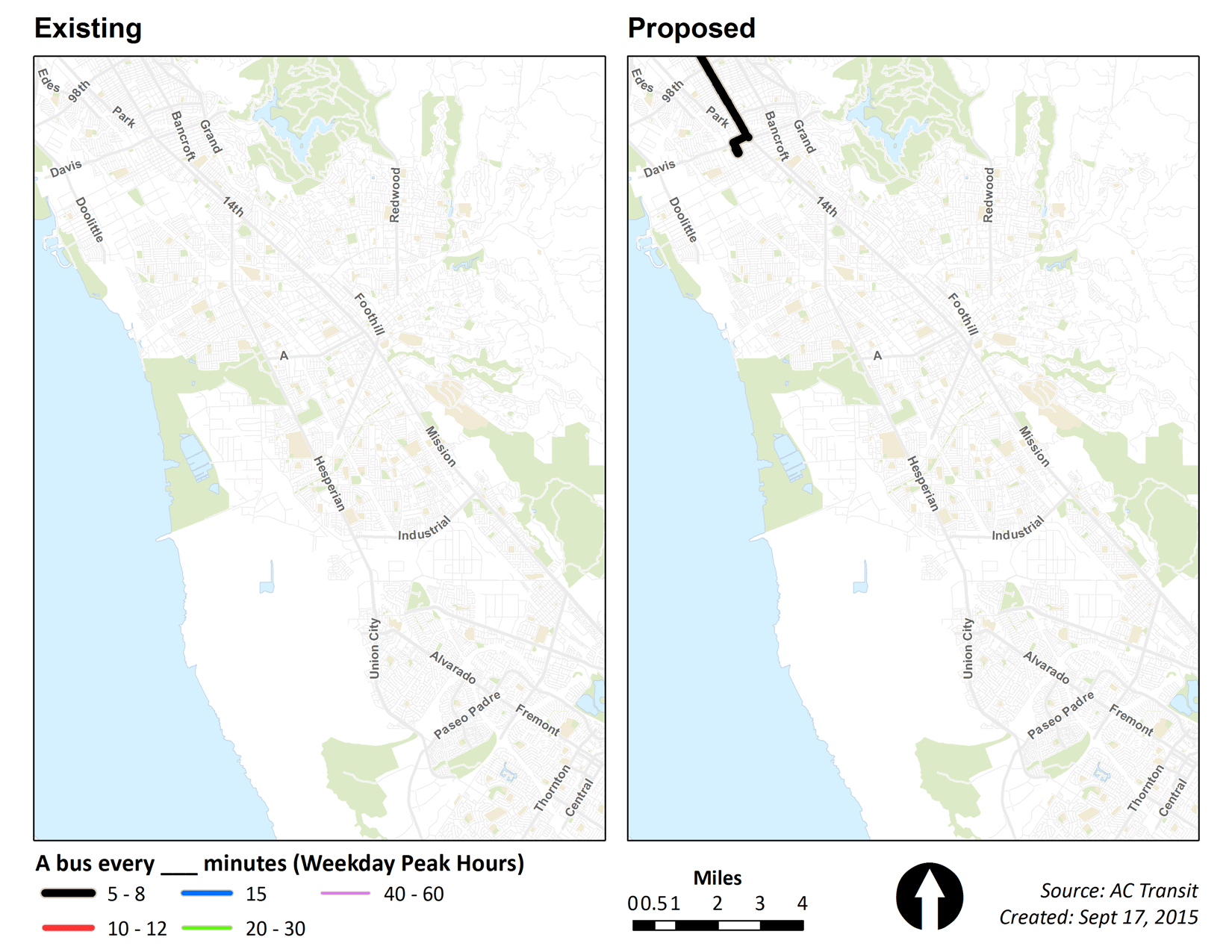 (Non-animated versions of these maps are also available.)
Here are the specific route-by-route service improvement recommendations with links to individual route profiles and a comment card where you can provide feedback:
NOTE: The route numbers are for planning purposes only and AC Transit will develop a more conventional numbering system during the implementation process.
Frequency (Min)
Span
Existing
Route
Proposal
New Route
Peak
Base
Start
End
Reason for change
1/1R
Split long route at Downtown Oakland. Create consolidated service on Telegraph Ave between Downtown Oakland and Downtown Berkeley with 1/3-mile stop spacing. Create consolidated service on International Blvd from San Leandro BART to Downtown Oakland until implementation of International Bus Rapid Transit (BRT) in 2017. Extend Line 99 from Bay Fair BART to San Leandro BART and Oakland border.
M6 Telegraph
10
12
5am
12m
Lines 1 and 1R suffer from poor on-time performance. Splitting the route will help AC Transit better schedule routes for traffic conditions. These routes will also be split when International Bus Rapid Transit (BRT) is implemented. Wider stop-spacing on Telegraph is intended to improve speed and reliability for consolidated service on the corridor.
M7 International Local
8
10
5am
12m
M3 E. 14th St
15
15 (20)
5am
12m
22
Create new route by connecting Hesperian and Winton segments of Line 22 with Line 60 to CSUEB.
L6 Winton
20
20
(30)
6am
10pm
Create frequent crosstown route between CSUEB and Chabot/Kaiser with connections to Southland Mall and Downtown Hayward/Hayward BART. Increase frequency to 20 minutes on all segments. Mission Blvd segment covered with new route and Tennyson segment covered with more frequency on Lines 83 and 86.
M2 Mission Blvd
20
20
(30)
5am
12m
32
Eliminate CW/CCW loop. Connect Center Street segment of Line 32 to Center Street and Redwood Rd segments of Line 48. Maintain existing alignment between Castro Valley BART and Bay Fair BART. Replace Line 89 weekend service to Alameda Juvenile Detention Center.
L10 Castro Valley
30
30
6am
10pm
(9pm)
Eliminate confusing loop route and increase frequency to 30 minutes 7-days a week.
37
Eliminate loop. Maintain Santa Clara, Underwood, Amador. Continue on current Line 85 south of Tennyson to Union Landing and extend to Union CIty BART.
L11 South Hayward
30
30
6am
10pm
(9pm)
Improve frequency from hourly to 30 minutes 7-days a week in south Hayward. Overlap with L11 provides 15-minute service between Union City BART and Industrial Blvd.
40
No change
48
Connect Center Street segment of Line 32 to Center Street and Redwood Rd segments of Line 48. Continue to serve Grove and Foothill with Line 83 extension from Hayward BART. Peak period service provided by NX4 and NXC on discontinued Line 48 segments.
L10 Castro Valley
30
30
6am
10pm
(8pm)
Discontinue very low ridership segments. In order to increase frequency, the most productive segments of two hourly routes were combined to form a single 30-minute route. Line 48 segments will now have weekend service.
57
Extend Line 57 to Emeryville Public Market via 40th Street and Shellmound.
M5 Macarthur
15
15
5am
12m
Restore direct service to major employment and shopping destination.
58L
Eliminate route. Re-invest hours and buses on MacArthur corridor to extend Line 57 to Emeryville and increase frequency of NL
M5 Macarthur
15
15
5am
12m
Discontinued due to very low ridership to downtown Oakland. Improve corridor legibility by investing resources in 57 and NL.
NL Macarthur
15
20
(30)
5am
12m
60
Create new route by connecting Line 60 with Hesperian and Winton segments of Line 22.
L6 Winton
20
20
(30)
6am
11pm
(10pm)
Create frequent crosstown route between CSUEB and Chabot/Kaiser with connections to Southland Mall and Downtown Hayward/Hayward BART.
75
Eliminate loop. Realign on Estudillo to Grand and extend south on Fargo, Lewelling, Meekland, and West A Street. Discontinued segments on Foothill and Grand maintain peak period service with NX4 and NXC.
L3 Meekland/Davis
30
30
6am
(8am)
10pm
(8pm)
Introduce weekend service. Overlap with L5 to create frequent 15-minute crosstown route from Foothill Square on Davis/Estudillo and on Lewelling/Meekland/W A St through San Lorenzo, Ashland, and Cherryland. Increase service to Kaiser San Leandro. Discontinue Line 75 one-way stops on Foothill and Grand due to very low ridership (peak period service provided by NX4 and NXC).
83
Extend route to Castro Valley BART and increase frequency.
L83 Tennyson/A St
30
30
6am
(none)
10pm
(none)
Increase frequency from 60 minutes to 30 minutes to improve service to Hayward industrial areas. Overlap with L86 to provide frequent 15-minute service on Tennyson and W A St. Extend to Castro Valley BART to cover Line 48 segments on Foothill and Grove.
85
Split route in two. Realign to Alvarado and Halcyon from San Leandro BART to Bay Fair BART, continuing onto existing Line 93 routing through San Lorenzo. Connect south Hayward segment to Whitman and Huntwood and extend to Union Landing and Union City BART.
L9 San Lorenzo
30
30
6am
10pm
(9pm)
Increase frequency from hourly to 30 minutes by merging most productive segments of Lines 85 and 93. Provide San Lorenzo with connections to Bayfair, San Leandro and Hayward.
L4 Whitman/Huntwood
30
30
6am
10pm
(9pm)
Increase frequency from hourly to 30 minutes and introduce weekend service on portions of Line 37. Provide frequent 15-minute service from Union City BART to Huntwood and Industrial Parkway by overlapping with L4.
86
Extend on Corsair. Realign from Winton to W A Street.
L86 Tennyson/W A St
30
30
4am
12m
Provide 30 minute service on all segments to provide better service to Hayward industrial areas. Overlap with 83 to provide frequent 15-minute service on Tennyson from South Hayward BART to Industrial Blvd and on W Ast Street to Hayward BART.
89
Eliminate loop. Continue on Estudillo to Grand, extending north to Foothill Square and south to Lewelling, Meekland, and West A Street. Discontinued segments on Bancroft still covered by Line 40.
L5 Lewelling/Davis
30
30
6am
10pm
Overlap with L3 to create frequent 15-minute crosstown route from Foothill Square in Oakland to San Leandro on Davis/Estudillo and 15-minute north-south route on Lewelling/Meekland/W A St through San Lorenzo, Ashland, and Cherryland.
93
Eliminate loop. Maintain existing alignment from Bay Fair BART to Hayward BART, with exception of extension on Blossom and Western. Extend northern end to San Leandro BART via Halcyon, Alvarado, and Washington.
M3 E. 14th St
15
15 (20)
5am
12m
Increase frequency from hourly to 30 minutes by keeping most productive segments of Lines 85 and 93, providing San Lorenzo with connections to Bayfair, San Leandro and Hayward.
L9 San Lorenzo
30
30
6am
10pm
(9pm)
94
Maintain peak period service through L6 Winton. Every other trip will run to Hayward Highlands on weekdays.
L6 Winton
40
none
5am–9am
3pm–8pm
Every other trip on L6 will run to Hayward Highlands during peak periods. Freqency increased from hourly to 40 minutes.
95
No change
97
End route at Union Landing. Maintain frequency on Alvarado Niles Blvd with new routes.
M1 Hesperian
15
20
6am
12m
Shortening route will improve on-time performance and reliability and allows reinvestment of hours into 15-minute service, as well as more frequent service in south Hayward and Union City on proposals L4 and L11. Overlapping L4 and L11 maintains 15-minute service on Alvarado-Niles between Union Landing and Union City BART.
98
Split into two routes
L13 85th/90th Av
20
20
(30)
6am
11pm
(10pm)
Split loop route into two routes with distinct end-points with greater demand for travel.
L14 98th Av
20
20
(30)
6am
11pm
(10pm)
99
Split route at Hayward BART. Extend northern section from Hayward BART to San Leandro BART. Terminate southern section at Union City BART. Service on Decoto and Fremont Blvd covered by L8. Service on Walnut covered by L1.
M3 E 14th St
15
20
5am
12m
Shortening route will improve reliability and on-time performance. Eliminating travel time through the Hayward Loop on Line 99 allows extra running time to be reinvested to increase frequency.
M2 Mission Blvd
20
15 (20)
5am
12m