Van Hool Buses

AC Transit is introducing our new Van Hool buses. Unlike any other bus running in the United States, this bus has a 100 percent low-floor for easy entrance and exit. These European-styled buses also provide a third rear door in the back for quicker unloading. You are riding a new Van Hool that will forever change the face of urban transit buses in North America.
AC Transit has ordered 134 forty-foot A330 and 57 sixty-foot articulated AG300 buses, with deliveries scheduled to begin in April 2003, and completed by December 2003. Their arrival will allow AC Transit to retire its fleet of 18 and 19 year-old buses.
The new Van Hools will appear on AC Transit's Bus Rapid Transit lines, beginning with the "San Pablo Rapid," scheduled to start service in June 2003. These buses also will be assigned to at least five major trunklines carrying in excess of 97,000 passengers per day.
Look for two prototype Van Hool buses, currently running in the East Bay. Find and fill out our onboard survey card and let us know what you think.
Enjoy these new features to make your riding easier:
Stop Request Buttons: Instead of pulling a cord to signal the driver to stop, look for small red devices mounted on upright poles, or on bulkheads next to windows. Just push the yellow button to request that the driver stop.
Exit Doors: You no longer have to push and hold open the doors when exiting the bus. Instead, look for the small boxes on the vertical poles on either side of the doors. When you see the orange light, push the button below the box. This automatically opens the doors. The doors remain open until you safely exit.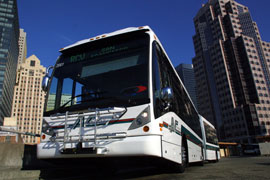 Look for these other new features:
Large, open standing room areas with "lean-to" pads and flip-up seats
Extra doors with automatic openers and wider openings
Large windows with 360-degree visibility
Easier access and seats for riders in wheelchairs or with walkers, as well as people with strollers
A more spacious interior layout
Quieter engines
AC Transit's new logo and color scheme
For a press release with more detail about the Van Hool bus and its new features, click here.
To send comments contact, jlevin@actransit.org, Director of Marketing and Communications