Your Guide to Bus Rapid Transit

A Long Tradition of Rapid Transit on East Bay Streets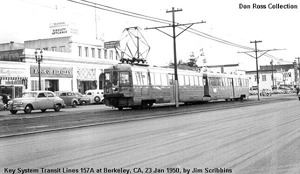 In the early to mid-1900s, East Bay communities were well served by an efficient network of trains and streetcars called the Key System. Unfortunately, what was seen by some as modernization led to the elimination of this widely used system. Its elimination, combined with a growing population, resulted in increased congestion, diminished air quality, and reduced mobility options, particularly for underserved populations.
As population continues to grow, and as more people become aware of the environmental impact of millions of individual cars, the demand for improved public transportation continues to grow as well. But deciding what type of service to provide can be difficult. Heavy and light rail are popular options, but they are expensive to build and operate. Traditional bus service is flexible and relatively inexpensive, but it often suffers from the same problem that car drivers face, congestion.
There is Another Option
Imagine light rail without the tracks. Bus Rapid Transit (BRT) uses dedicated lanes, efficient boarding platforms, and signal priority to keep green lights green. Essentially, BRT combines the best features of rail with the flexibility and cost advantages of roadway transit. BRT has been successfully implemented in Australia, South America and Europe and is now gaining popularity in North America. Across the country (Los Angeles, Boston, New York, San Francisco), people are realizing that providing improved public transit can reduce the number of cars on the road.
Click for information About the BRT Project