BRT in the East Bay

"Better Rapid Transit"
BRT is not only Bus Rapid Transit, it is Better Rapid Transit. It is the best option available to restore high quality transit service, attract people out of their cars, and fight global warming. BRT can be built in phases, providing almost immediate relief and offering cost-effective future expansion options. It also attracts transit-oriented development.
The Planned Route
North to south, the BRT route will begin at the 20th Street Uptown Station in Oakland;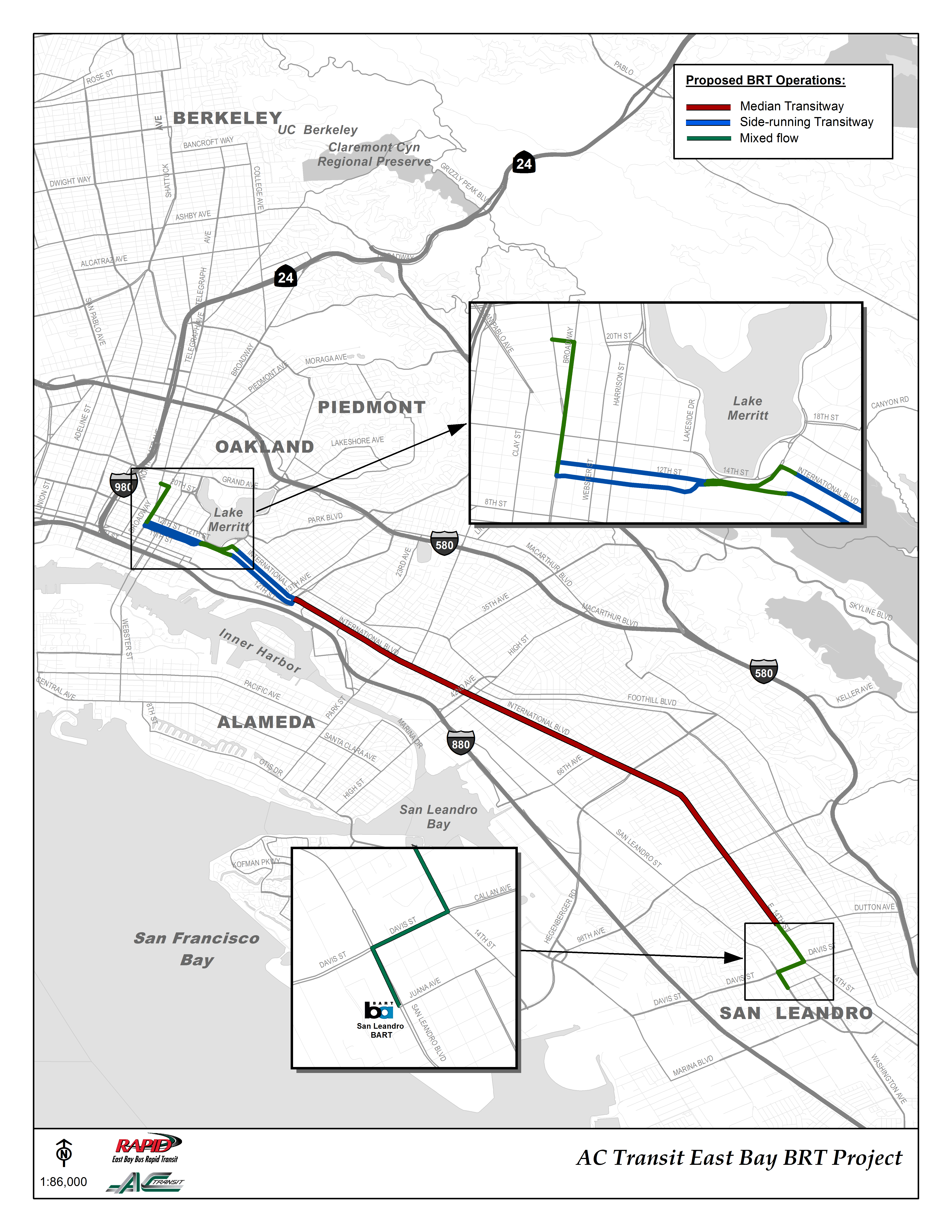 follow Broadway to 11th and 12th Streets, continuing around Lake Merritt on E 12th Street. From there, the route will follow E 12th Street and International Boulevard to 14th Avenue, continuing on International Boulevard through East Oakland. At the city limit with San Leandro, it continues along East 14th Street to downtown San Leandro, then along Davis Street to San Leandro BART.
The East Bay Bus Rapid Transit Project has the following corridor-wide projections when it opens (2016):
Increased corridor ridership–From 25,000 to 36,000 patrons per day!
Faster travel speed

+25 percent faster during the middle of the day
+28 percent faster during the afternoon rush hour
Environmental and Community Benefits:
BRT reduces transportation-related CO2 emissions and can be deployed more quickly, and with less disruption, than rail systems. BRTwas the first, and so far the only, mass transit technology certified under the Kyoto Protocol.
BRT will reduce auto travel by 2,000 single trips and 8,000 miles per day, which means a reduction of 210 gallons of fuel per day. These reductions cut regional emissions and greenhouse gases:
NOx (Nitrogen Oxide): 12 pounds per day
CO (Carbon Monoxide): 52 pounds per day
GHG: 4,100 pounds CO2-equivalent per day
Additionally, BRT promotes economic development through Transit-Oriented Development and Smart Growth:
According to ABAG (Projections 2009) the population of Alameda County is projected to increase more than 26 percent by the year 2035.
All portions of the BRT route are considered "Priority Development Areas" within each city
Focusing more density around planned infrastructure investment is sound transportation planning policy
Pedestrian and Bike-Friendly
Bicyclists will be positively impacted in the following ways:
Bus/bicycle conflicts eliminated or substantially reduced
BRT stations allow easy level boarding of bicycles
Single general-use through-lane calms traffic
Bike lanes will be added per the City of Oakland Master Bicycle Plan, wherever feasible.