DBE Certification Information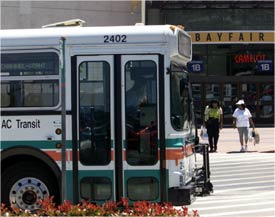 AC Transit has set an Overall Annual Disadvantaged Business Enterprise (DBE) Goal of 8 percent (8%) applicable to contracting opportunities funded in whole or in part by the U.S. Department of Transportation for the 2014-2016 fiscal years. A DBE is a small business that is 51% or more owned and controlled by socially and economically disadvantaged individuals including Black Americans, Hispanic Americans, Native Americans, Asian-Pacific Americans, Subcontinent Asian Americans, and Women.
Policy Statement
The Alameda-Contra Costa Transit District ("AC Transit") is committed to a Program for the participation of Disadvantaged Business Enterprises ("DBEs") in District contracting opportunities in accordance with 49 Code of Federal Regulations, Part 26, effective March 4, 1999, as may be amended ("Regulations").
It is the policy of the District to ensure nondiscrimination on the basis of race, color, sex, or national origin in the award and administration of the U.S. Department of Transportation ("U.S. DOT") assisted contracts. It is the intention of the District to create a level playing field on which DBEs can compete fairly for contracts and subcontracts relating to the District's construction, procurement, and professional service activities.
The Board of Directors is responsible for establishing the DBE Policy of the District. The General Manager of the District is responsible to ensure adherence to this Policy. The DBE/Program Compliance Administrator, in coordination with all District officers, Deputy/Assistant General Managers, Department Managers, and Purchasing and Buying Staff, is responsible for the development, implementation, and monitoring of the DBE Program in accordance with the District's nondiscrimination policy. It is the expectation of the Board of Directors and the General Manager that all District personnel shall adhere to the spirit, as well as the provisions and procedures, of the DBE Program.
This Policy Statement will be circulated to all District personnel and to members of the community that perform or are interested in performing work on District contracts. The complete DBE Program and overall annual DBE goal analysis are available for review at the office of the DBE/Program Compliance Administrator, 1600 Franklin Street, Oakland, CA 94612. The Contracts Compliance Officer, Phillip McCants, can be contacted at (510) 891-5443, by fax at (510) 891-7295, or by e-mail at pmccants@actransit.org.
Contractors who are looking for DBE Subcontractors may search California Unified Certification Program (CUCP) Database online. More information is available on the Metropolitan Transportation Commission's Web site.