Doing Business With AC Transit
Overview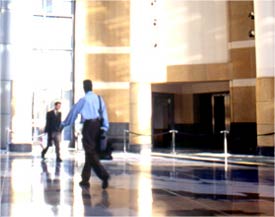 The Purchasing and Materials Management (PMM) Department of the Alameda – Contra Costa Transit District conducts all purchasing activities for AC Transit.
PMM develops and issues solicitations for all goods, inventory items, services, and public works (construction) projects. The Buyers (generic for Contract Specialists, Senior Buyers and Buyers) employed in PMM are responsible for these purchasing activities and are the primary point of contact for vendors to resolve contractual differences and issues amendments to existing contracts. Buyers are also available to meet with a firm whose proposal was not selected to debrief them on their proposal's strengths and weaknesses.
PMM's staff makes every effort to obtain the maximum value for each dollar expended, considering the factors of price, quality, applicability, availability, support service, pertinent laws and regulations. PMM's staff also ensures that performance satisfaction is obtained by working closely with AC Transit project managers to develop specifications that are detailed and clearly written, yet are sufficiently broad to promote competition among many vendors. AC Transit purchases are made in two competitive ways:
1. Informal Solicitations are as follows:
For materials, supplies and equipment: requirements $25,000 or less
For services: requirements $100,000 or less
For public works (construction): requirements $10,000 or less
2. Formal Solicitations are as follows:
For materials, supplies and equipment: requirements over $25,000
For services: requirements over $50,000
For public works (construction): requirements over $10,000
Because AC Transit is a public agency authorized by an act of the California Legislature, AC Transit is subject to the California Public Contract Code, California Public Utilities Code and the California Labor Code. In addition, AC Transit must comply with Federal Transit Administration requirements for Federally funded procurements.
Purchase Orders and Contracts
Purchase orders or contracts are issued after an award is made to the successful firm. A copy of the signed document will be sent to the firm. The firm and AC Transit are contractually bound to the terms and conditions of the signed document.
Bid Advertisements
The San Francisco Chronicle and Oakland Tribune are our legal newspapers of record for all routine advertised solicitations. AC Transit also posts solicitations on AC Transit's on-line procurement system (ACT Online Purchasing) Web Page. Sometimes a specific project may necessitate that AC Transit also advertises in an additional newspaper or trade publication. Solicitation announcements are published at least once prior to the bid or proposal submission date.
Vendor Registration
Vendor registration is handled through PMM's online procurement system, ACT Online Purchasing. To register or log into your account, click here: http://www.actransit.org/purchasing/vendor-registration-and-log-in/. Being in the database allows a vendor to be notified of solicitations within the specific NAICS code commodities that the vendor has requested notification on. It is the responsibility of the vendor to keep its business profile updated with the Purchasing system.
Some Points To Remember
Read all solicitation packages and on-line solicitation requirements and instructions carefully. Be sure you can comply with all requirements before you respond. If you have any questions, be sure to contact the buyer responsible for the project.
Be sure your offer arrives on time. All solicitation packages state the date and time the offer is due to AC Transit. Do not depend on the U.S. Postal Service or a courier service for offers which cannot be submitted on-line. Hand delivery is strongly recommended. AC Transit does not accept late offers/bids.
Make your sales investment wisely. Always contact AC Transit before you spend time and money creating expensive demonstration, designs, layouts or presentations.
Pre-bid and pre-proposal conferences are held for larger, more complicated requirements. At these meetings, the requirements are explained and an opportunity exists to request clarifications on any items in the solicitations.
Check the Purchasing area often to view the list of current open solicitations.
In accordance with AC Transit's code of ethics, employees will not accept gifts or entertainment. Vendors are requested to not make any such offers to employees.
Purchasing Department Staff
Below is a listing of AC Transit's purchasing staff. Questions regarding specific procurements should be directed to the buyer identified on the solicitation. For general questions or comments contact the department at contracts@actransit.org.
© 2001-2020 AC Transit All Rights Reserved. Terms and conditions.