Rider Guides
For specific bus riding tips, see below.
The AC Transit website features a great number of PDF documents.


Get Adobe Reader
Bay Area Regional Transit Guide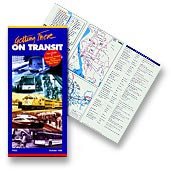 The MTC's Bay Area Regional Transit Guide is called Getting There on Transit. Whether you're a newcomer to the region, a tourist, or a weekend explorer, you'll find everything here that you need to navigate the nine counties by bus, train, trolley, cable car and ferry. The guide covers the entire 7,000 square mile Bay Area, from Cloverdale to Gilroy, with directions to 250 of the most popular destinations, from museums to parks to shopping centers.