Bikes on Buses

Join AC Transit, Bike East Bay and Walk Oakland Bike Oakland on May 12 for the biggest bike day of the year! Thousands of people all around the Bay Area will be riding together for Bike to Work Day. Celebrate with a free pancake breakfast at Frank Ogawa Plaza, park all day for free with Bike East Bay's bike valet, and get your goodie bag full of bike-friendly swag. Don't forget to stop by AC Transit's table to learn about the new 3-position bike racks on buses. Visit BikeEastBay.org/BTWD for more information.
A Bicyclists Guide for Commuting by Bike and Bus on AC Transit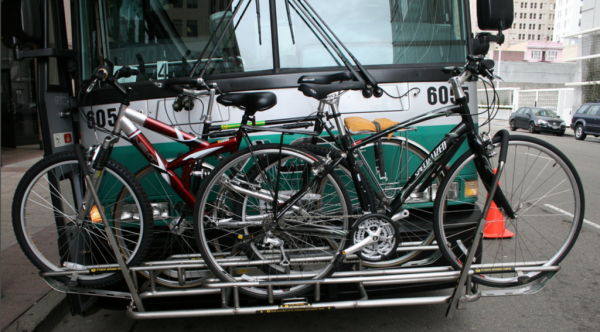 Welcome Aboard!
Hundreds of bicyclists use AC Transit every day. With 120 bus lines, including 30 transbay lines to San Francisco and the Peninsula, taking your bike on AC Transit can really extend your range. Whether you are commuting to work or school, heading out to a regional park or bike trail, or simply want an easier way to negotiate that big hill or congested street, AC Transit can help get you there.
Taking bicycle-bus trips on AC Transit is getting even easier. AC Transit is in the process of introducing three-position bike racks. Since 2002, every bus in the fleet has been equipped with two-position racks. But with the surge in bicycle commuting in recent years, these racks are now often full and some bicyclists are finding themselves left at the stop, not being able to load their bikes.
Starting with AC Transit's most recent order of new buses, which arrived in February, every new 40-foot bus will be outfitted with a three-position rack—and more bicyclists will get to complete their multi-modal trips successfully!
Watch the "how-to" video to see bike loading in action. For detailed loading instructions, Download our printable PDF.
Loading Your Bicycle
Keep in Mind
You may only load and unload bicycles at AC Transit bus stops.
Space on the rack and in the MCI cargo bay is available on a first-come, first-served basis. If the space is full, please wait for the next bus.
From 5:30 a.m. to midnight, all bicycles must be placed on the rack – bicycles are not permitted inside the bus. From midnight to 5:30 a.m., you may carry your bike inside the bus only if the rack is full and space is available.
Bike racks can accommodate two-wheeled bicycles (no tandems) with a wheelbase of
up to 44 inches and a wheel size of at least 16 inches.
You must load and unload your own bike. The bus driver cannot provide assistance.
AC Transit is not responsible for loss of or damage to bicycles carried on buses.
If you accidentally leave your bike on the bus, you can report it at actransit.org/feedback or (510) 891-4706 at any time. AC Transit Lost & Found staff will notify you the next business day if your bicycle is recovered. All unclaimed items are retained by AC Transit for 90 days.
Sharing the Road
Communication and good will are key to buses and bicycles sharing the road. Bus drivers are required to signal when pulling to the curb at a bus stop. Listen for the signal sound of an overtaking bus, then signal and pass the bus on the left when clear. Never endanger bus passengers or yourself by passing between the bus and the curb!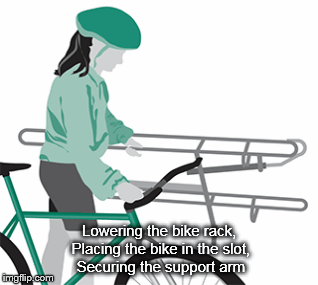 For detailed loading instructions,
Download our printable PDF.