AC Transit Launches New Safety App: TipNow
See It, Share It with TipNow-AC Transit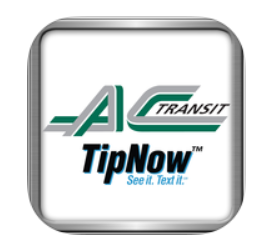 As part of its commitment to safety for riders and operators, AC Transit has launched a new, FREE smartphone app, TipNow–AC Transit, that allows riders to report non-emergencies and other incidents at the touch of a button. Tips can be sent
TipNow-AC Transit allows users to anonymously report disruptive behavior, suspicious activity, theft, vandalism and unattended packages. Once in the app, riders are asked to input their bus line and bus number along with a description and optional photo of the incident. All messages are received by our AC Transit Operations Control Center, which then decides how to handle each individual incident.
Developed by Resilligence Incorporated, TipNow is a popular mobile application used on college campuses and by city governments.
As the first transit agency to use TipNow, AC Transit will undergo a one-year pilot program, with the option to extend and enhance the app after that time.

The free smartphone app is available in the iTunes and Google Play stores, or by searching for TipNow—AC Transit.
SPANISH AND CHINESE TRANSLATIONS
Currently, TipNow is available in ENGLISH only.
Reportar actividades sospechosas a su conductor o llame al (510) 891- 4777
En una Emergencia, llame al 911.
报告可疑活动到驱动程序,或致电(510)891-4777。
如遇紧急情况,请拨打911.