Transbay Service at the Salesforce Transit Center
AC Transit is moving Transbay service operations to the Salesforce Transit Center on Sunday, August 11, 2019.
The Salesforce Center is located one block from the current Temporary Terminal, bounded by Mission and Howard streets, from Beale to Second streets. The center is a state-of the-art transportation hub built to serve 11 transit systems throughout the region.
AC Transit operates the Bay Area's most comprehensive transit service at the new center, deploying 27 bus lines and 140 buses at peak hour during weekdays, using the Bus Deck on Level 3 of the building. Riders can access the Bus Deck via escalators or elevators. Direct escalators are located between Beale and Fremont, and Fremont and First streets. Riders with bicycles should use the elevators to access the Bus Deck.
Please note that Clipper vending machines are located on the ground floor only. See Area Map below for more details.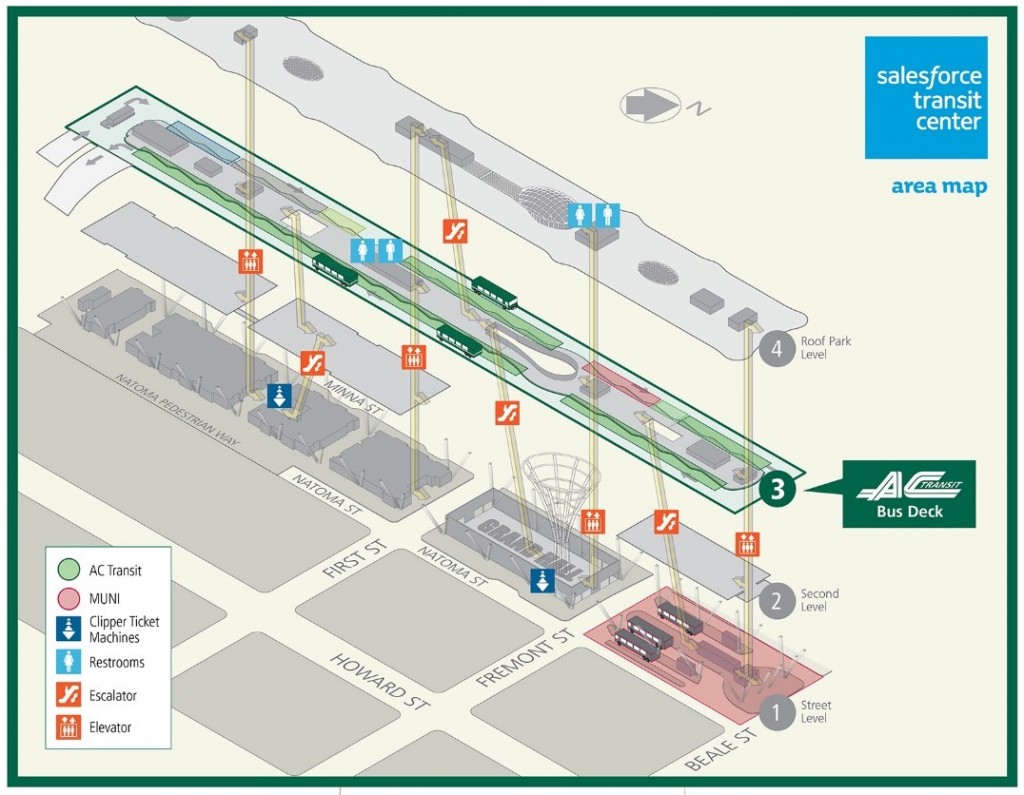 Each AC Transit bus line has a designated Bus Bay as illustrated in the guide and map below, except for Line 800. Line 800 is serving the stop located at First and Mission streets.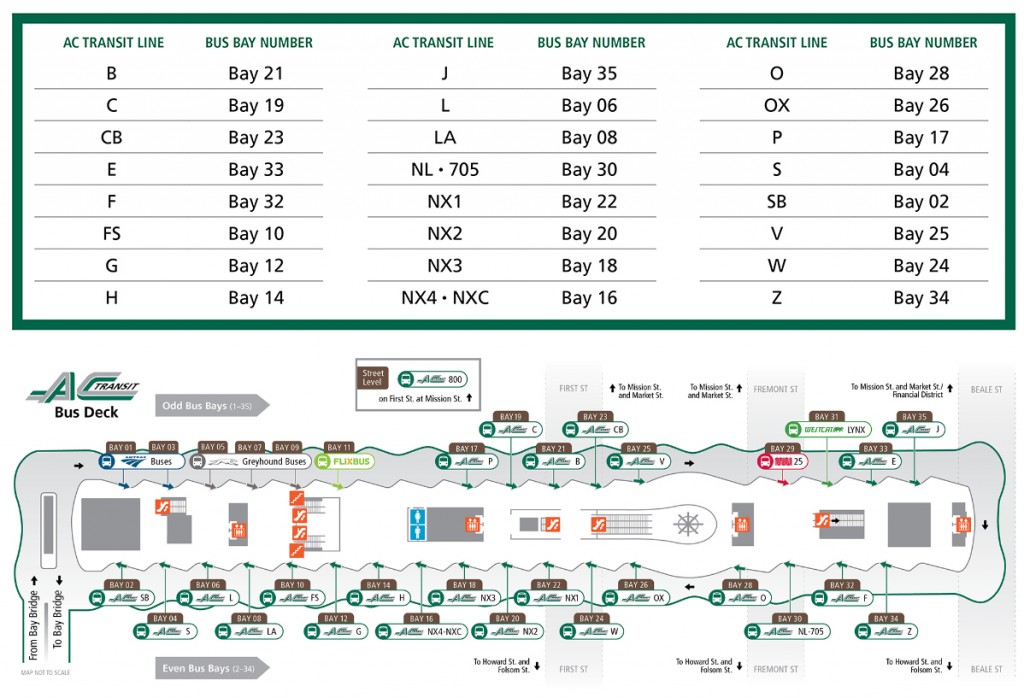 _
Servicio Transbay en el Salesforce Transit Center
AC Transit esta trasladando las operaciones del servicio Transbay al Salesforce Transit Center el domingo 11 de agosto de 2019.
El Salesforce Transit Center está ubicado a una cuadra de la terminal temporal actual, limitado por las calles Mission y Howard, desde las calles Beale a Second. El centro es un nodo de transporte de última generación, construido para dar servicio a 11 sistemas de tránsito en toda la región.
AC Transit opera el servicio de transporte más completo del Área de la Bahía en el nuevo centro, desplegando 27 líneas de autobús y 140 autobuses en las horas pico durante los días laborables, utilizando la plataforma de autobuses en el nivel 3 del edificio. Los pasajeros pueden acceder a la plataforma de autobuses a través de una escalera mecánica o un ascensor/elevador. Las escaleras mecánicas directas están ubicadas entre las calles Beale y Fremont, y las calles Fremont y First. Los pasajeros con bicicletas deben usar los elevadores para acceder a la plataforma de autobuses.
Tenga en cuenta que las máquinas de boletos de Clipper están ubicadas solo en la planta baja. Consulte el mapa del área para obtener más detalles.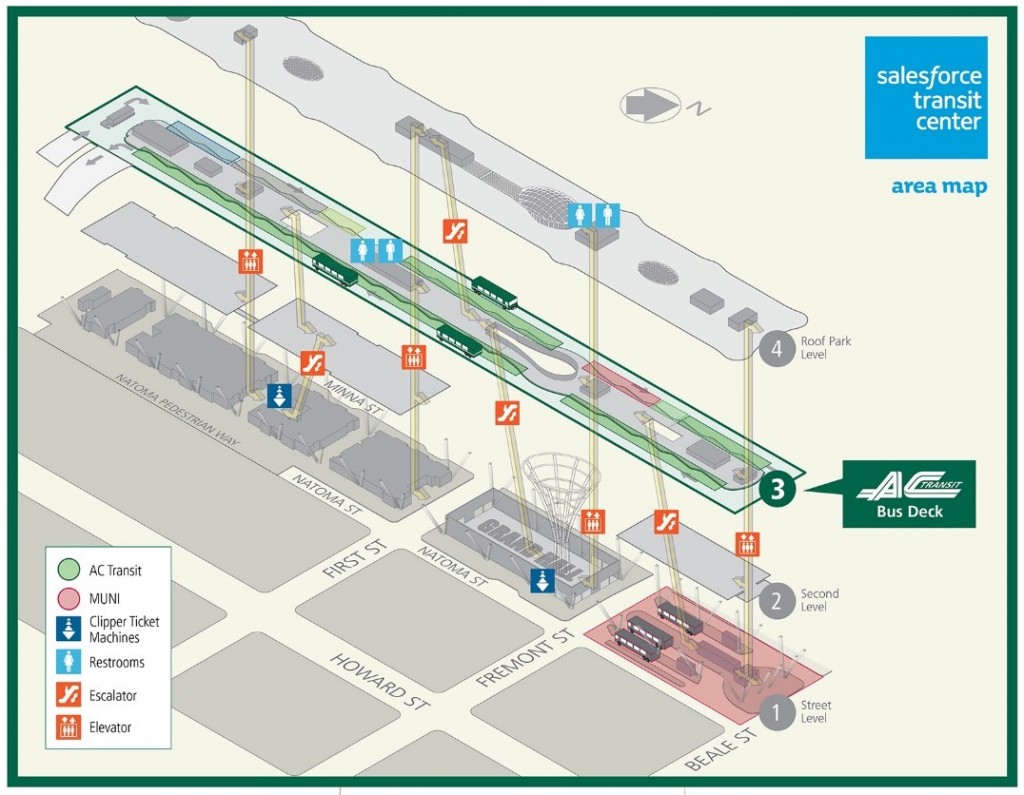 Cada línea de autobús de AC Transit tiene una dársena de autobús designada como se ilustra en la guía y el mapa a continuación, excepto la línea 800. La línea 800 está dando servicio a la parada ubicada en las calles First y Mission.

INFORMACIÓN SOBRE LA PLATAFORMA DE AUTOBUSES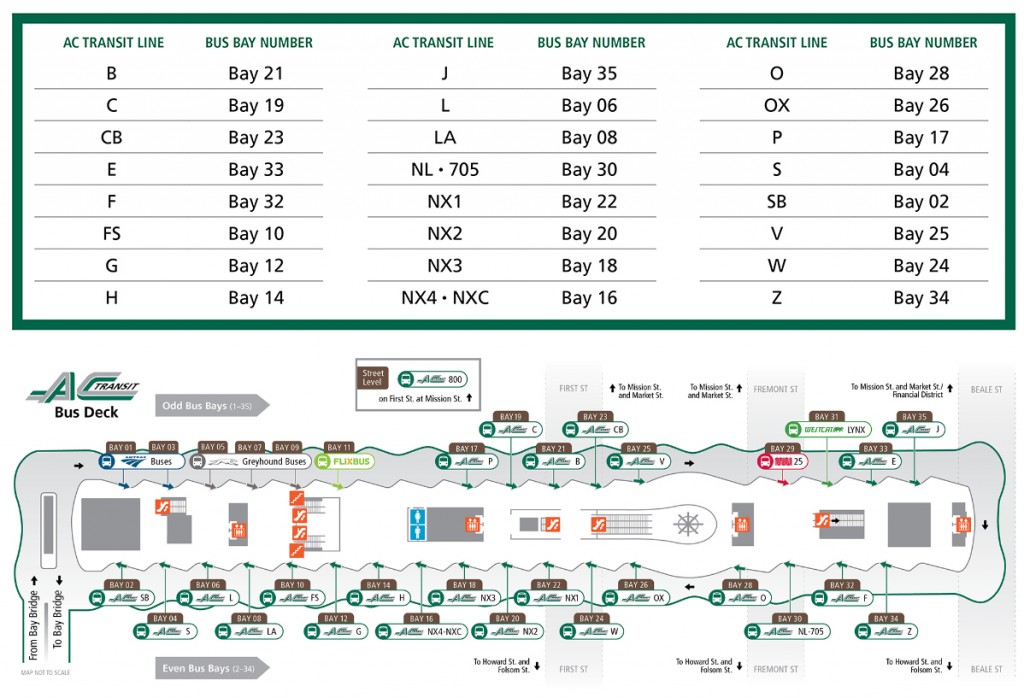 _
Salesforce Transit Center(交通转运中心)的 Transbay (跨湾)服务
2019年8月11日星期日,AC Transit 的 Transbay 服务将移到 Salesforce Transit Center。
Salesforce Center 和 Temporary Terminal 一街之隔,四周为 Mission 和 Howard 街,从 Beale 到 Second 街。本运输中心堪称世界先进的交通枢纽,旨在服务于整个地区的11个交通系统。
AC Transit 将在新运输中心开展湾区最全面的服务。大楼3层为巴士层。工作日的高峰时段将部署27条公交线路和140辆公交车。您可以搭乘电梯或自动扶梯前往巴士层。自动扶梯位于 Beale 和 Fremont 街,Fremont 和 First 街。携有自行车的乘客请通过直达电梯前往巴士层。
请注意,Clipper 售票机仅设于一楼。更多详情请参考下方地图。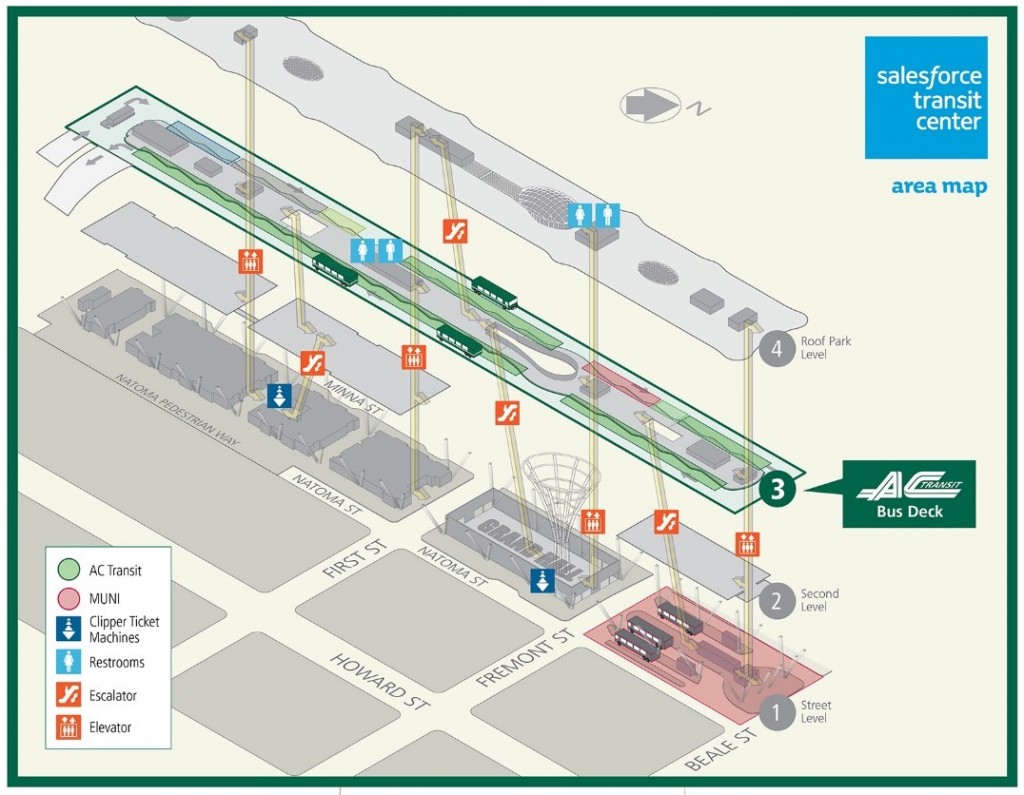 如下图所示,每辆 AC Transit 巴士线路都有对应的巴士停车湾(Bus Bay), 800号线除外。800路服务于 First 和 Mission 街交叉口站。