Why Fix the Line 51?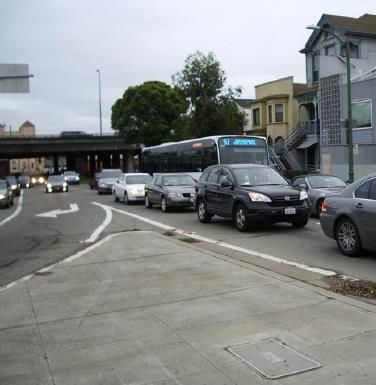 Lines 51A and 51B are two of the most heavily used bus routes in the East Bay, carrying a combined 19,000 passengers a day through Berkeley, Oakland, and Alameda. Service has been unreliable along the Line 51 corridor due to outdated traffic signal infrastructure and increased congestion resulting in bus bunching, late vehicle arrivals and overcrowded buses.
AC Transit has received a $10 million grant to design and implement infrastructure modifications to improve transit operations along the Line 51 corridor. In partnership with the cities of Berkeley, Oakland, and Alameda, AC Transit proposes capital improvements to improve transit travel times, schedule reliability, and safety for other users of the roadway. This will improve the experience for our existing customers, attract new customers to transit, and create a safer environment for people biking and walking in the connected neighborhoods.
Improvements / Project Elements being proposed:
Intersection and traffic signal improvements
Transit signal priority (TSP)
Queue jump signals
Bus stop relocation or elimination
Bus stop improvements (e.g., lengthening, improved landing areas)
Right-turn / queue bypass lanes
Left turn pockets
Bus bulbs
Back to the Line 51 Project Homepage