Become an AC Transit Mechanic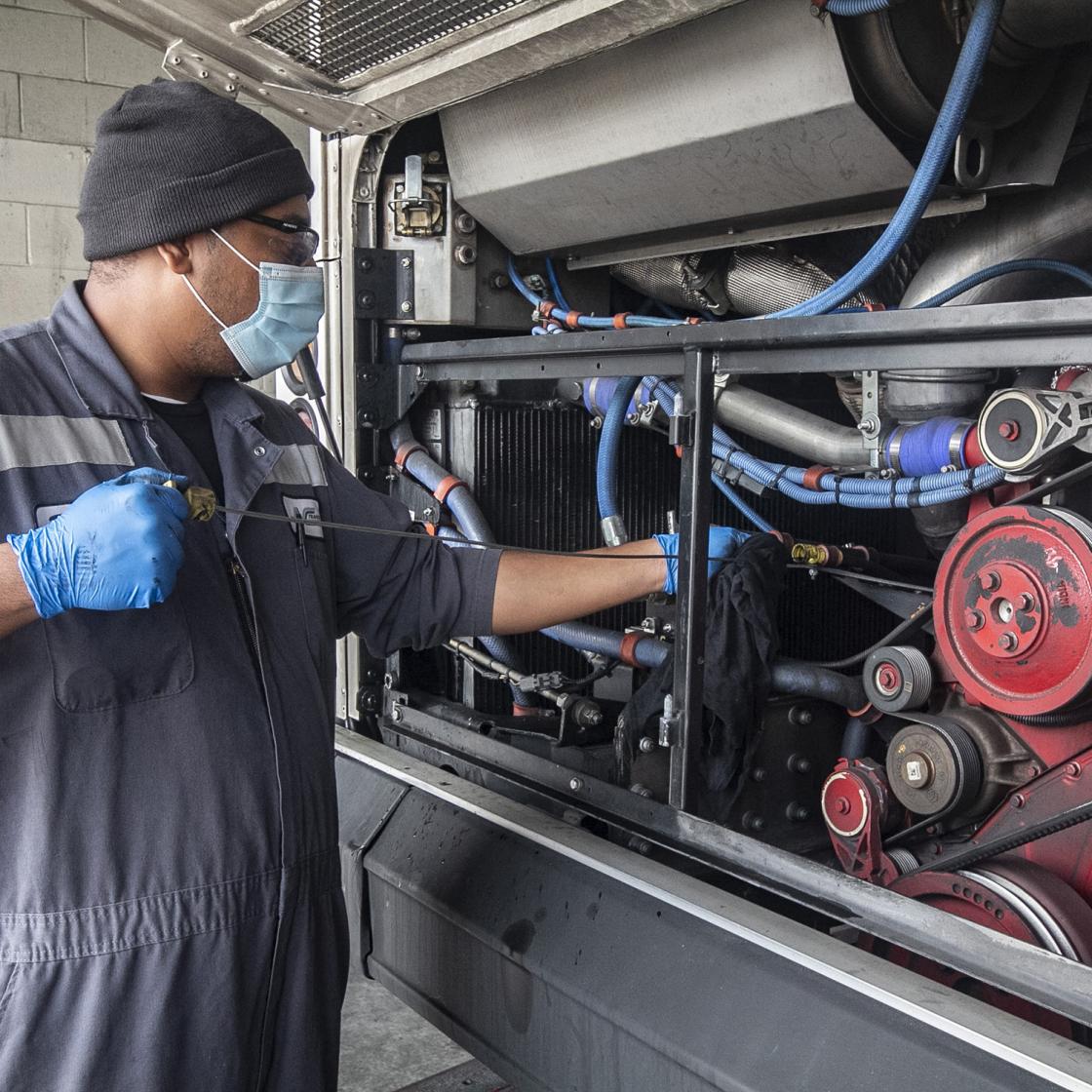 What our Mechanics Do
Diagnose, examine, and investigate vehicles to determine causes of defective operation of engines, transmissions, differential units, generators, starters, pumps, air suspension systems, pneumatic systems, passenger lift assemblies, radiators, injectors, clutches, air conditioning systems, and other vehicle components.
Determine proper course of action to facilitate vehicle repair, maintenance, adjustment, and component replacement.
Maintain, adjust, and/or repair all bus systems, components, and parts including hydraulic and electrical systems, brakes, front ends, and air conditioning systems to ensure the operational fitness of coaches.
Perform major overhauls, major tune-ups, and repair to brakes and steering systems.
Perform preventative maintenance and repair of all brands of passenger lifts on coaches.
Change windows and seats and performs minor body repair.
Operate buses to diagnose component failure, make roadside repairs, or move disabled buses.
Operate forklifts, overhead cranes, hydraulic lifts, hoists and jacks, brake lathes, and tugs used for pulling disabled buses.
Document all work performed including record of repairs on driver's defect cards; submit daily lift status reports to supervisor and dispatch; record all repairs logs; and prepare and submit weekly reports to supervisor.
Why Work for AC Transit?
Cutting Edge Technology in Zero Emissions Vehicles
Hydrogen Fuel Cell/Electric Hybrid Systems
Diesel/Electric Hybrid Technology
Clean Air Diesel Technology
All repairs completed on site including Engine and Transmission overhauls
No Diesel Experience? No problem!
A multi-week training program is provided on diesel and large vehicles
Ongoing classes and training opportunities are provided by the District
We Offer Great Benefits!
Employee monthly contribution for medical, dental, and vision is a flat rate of $120 with unlimited number of qualified dependents
Up to 6 weeks of vacation depending on length of service
Pension Plan – Vested after 8 years
Sick leave
11 Holidays per year
457(b) Savings Plan
Tuition Reimbursement program
Long-term Disability
Group Life Insurance
Free transportation on the AC Transit system