Secretary Buttigieg, Rep. Lee Tour Oakland Onboard AC Transit, Learn How Bus Lines Fight Environmental, Racial Inequity
Secretary Buttigieg, Rep. Lee Tour Oakland Onboard AC Transit, Learn How Bus Lines Fight Environmental, Racial Inequity
September 09,2022
AC Transit proudly welcomed the United States Secretary of Transportation Pete Buttigieg, Congresswoman Barbara Lee, and Oakland Mayor Libby Schaaf and an array of media outlets to see real-time how decades-old transportation projects harmed and literally divided East Oakland, which is now and historically been home to some of the East Bay's most disadvantaged residents.
"When we are making an investment in equitable improvements in transportation, that includes a recognition of the inequity in safety outcomes," said US Transportation Secretary Pete Buttigieg.
Buttigieg went on to say transportation projects ultimately segregated people of color, often African American neighborhoods, which limited or eliminated access to jobs and increased poor health outcomes.
AC Transit shares Secretary Buttigieg's commitment to improving lives and healthful outcomes. AC Transit operates throughout Oakland, including the city's most under-resourced neighborhoods. In fact, six in ten AC Transit riders are low-income, and nearly 70 percent of our riders are people of color.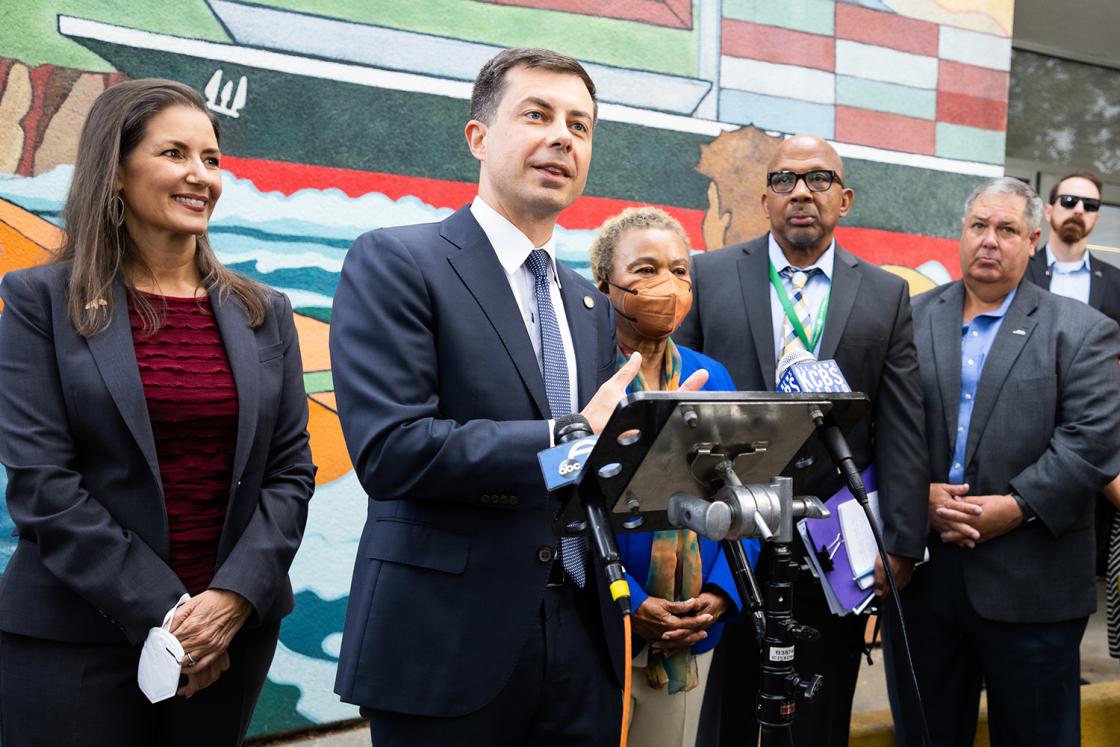 It is why Secretary Buttigieg, Congresswoman Lee, and Mayor Schaaf first rolled through Oakland streets designated under AC Transit's Clean Corridors Plan. For several years, we have prioritized the daily deployment of zero emission buses on an array of bus lines in disadvantaged communities stretching from Richmond, San Pablo, West Berkeley, West North, and East Oakland, International Boulevard/East 14th, Oakland International Airport, Ashland (San Leandro), Russell City (Hayward), and Union City. Clean Corridors is our commitment to environmental equity and operates with a simple mission: to improve public health, quality of life, and economic opportunity.
"We are proud to be a leader in the deployment of fuel cell and battery electric buses, but we need $2.5 billion to buy more and build new zero emission bus infrastructure," said Joel Young, AC Transit Board Vice President. "During the tour, we showed Secretary Buttigieg, that our transit district is already reconnecting communities with the launch of Tempo-BRT; now celebrating its second successful year of operation. And with additional federal funding, I am confident AC Transit can continue to help our region achieve greater equity through transit."
In fact, the community reconnecting Tempo-BRT (Bus Rapid Transit) currently outpaces all AC Transit bus lines with nearly 12,300 average daily riders; despite the pandemic-induced reductions in ridership across the Bay Area.
Today's tour was held aboard AC Transit's innovative hybrid fuel cell electric bus, which is part of our fleet of 40 new zero emission buses.
"AC Transit was the first to adopt fuel cell technology, and although the technology is now being used around the country, it was AC Transit that led the way," said Congresswoman Barbara Lee.
"I want to thank AC Transit with our zero emission bus, it's a great example of our city's commitment and our deep partnership with you Secretary Buttigieg," said City of Oakland Mayor, Libby Schaaf.