CONGRESSMAN RO KHANNA RETURNS HOME & TOURS AC TRANSIT
CONGRESSMAN RO KHANNA RETURNS HOME & TOURS AC TRANSIT
July 26,2022
A tour showcasing: The Largest Bus Operator training class since the pandemic; Augmented reality mechanical training; and Unmatched workforce development
OAKLAND, Calif. – The Alameda-Contra Costa Transit District (AC Transit) welcomed Representative Ro Khanna (CA-17) for a tour of our Hayward-based Training and Education Center, where 43 newly hired Bus Operators and Mechanical Maintenance workers are progressing toward regulatory certifications and graduation.
Board Directors Chris Peeples, Diane Shaw, and Murphy McCalley offered Rep. Khanna a real-time view into why AC Transit's Training and Education Center, euphemistically dubbed the TEC, is much more than workforce development but instead a facility creating transit careers daily. The tour featured how we have maintained the California Department of Motor Vehicles' distinction as an Employer Testing Program Examiner, which permits our transit district to provide commercial operator licenses onsite. In fact, Rep. Khanna interacted with AC Transit's largest cohort of new Bus Operator trainees hired since the start of the COVID-19 pandemic.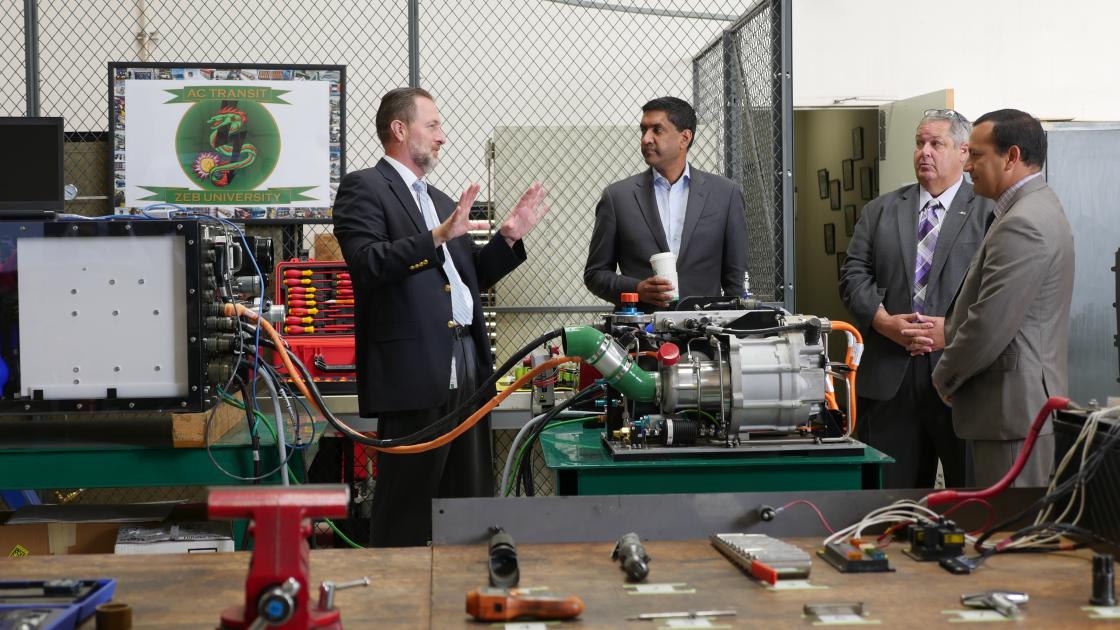 General Manager Michael Hursh demonstrated to the Congressman how AC Transit became Northern California's only zero emission bus mechanical training facility to use a fuel cell power plant within a training classroom.
"I was proud to show Representative Khanna how our ingenious mechanical technicians have revolutionized ZEB or zero emission bus maintenance," said Michael Hursh, General Manager. "After more than 20 years of ZEBs on Bay Area roadways, including fuel cell and battery electric, our in-house training led to the industry's first-ever transplant of a hydrogen fuel cell stack from a decommissioned to an in-service bus. We have now proven that an FCEB can be rehabilitated at mid-life, extending performance while saving costs. This historic achievement is just one of the advancements fueling AC Transit's evolving in-house Zero Emission University."
Rep. Khanna also experienced "ZEB U's" pilot Augmented Reality training module, which features wearable computer-capable glasses. With the use of these specialized goggles, a student will see real-time 3D images, graphics, or animated instructions while in a mechanical training room, from an instructor in a classroom, without the need for a monitor or device. Augmented reality is just one of the innovative tools needed to maintain our ZEB fleet that will soon total 64 coaches: 36 fuel cell buses and 28 battery electric buses.
AC Transit hopes to expand digital instructional training to transit agencies worldwide, but it is only possible through continued funding support from our federal, state, and local elected officials.
Our transit district impressed upon Rep. Khanna the critical need for $2.5 billion to upgrade our fleet and facilities, specifically the transition from a 1980's legacy training facility to a modern 2020's Advanced Learning Laboratory.