Rapid Bus Service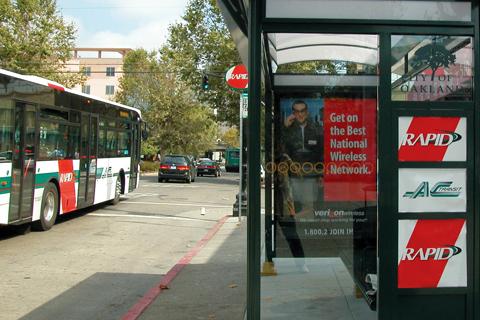 AC Transit launched its expedited Rapid tier of service in June of 2003. Rapid uses technology as well as on-street improvements to make service more efficient and reduce travel time. The vehicles on the Rapid lines were equipped with transponders that kept traffic lights green as the bus approached an intersection—resulting in less time waiting at a stoplight.
Rapid lines were planned with fewer and strategically placed bus stop locations that best serve passengers and help keep buses moving faster.
Because what was once the 1R eventually became Tempo Line 1T, the 72R is the sole remaining line of Rapid service at this time.
However, we are currently undertaking a Rapid Corridors Project which is intended to improve transit operations along Telegraph Avenue, San Pablo Avenue, and West Grand/Grand Avenue. If adopted, Rapid service on these corridors is planned to begin in late 2021. 
Proposed improvements to service on the new Rapid corridors:
Equipment Upgrades

: Infrared Transit Signal Priority (TSP) equipment will be replaced with more modern and reliable GPS technology. The new system will also enable buses to announce arrival times.

Traffic Signals

: Proposed improvements will extend the green light, or have it start earlier, allowing buses to travel through intersections more efficiently. Signals will also be coordinated for smoother traffic flow and provide a little extra needed crossing time for bicyclists and pedestrians.

Bus Stops

: Lengthening bus stops or constructing a transit-boarding island will allow vehicles to pull parallel to the curb and improve bus door access. This will be complimented with sidewalk improvements at some locations. Some bus stops are proposed to be moved to the far-side of intersections, allowing buses to take better advantage of proposed traffic signal improvements and more easily re-enter traffic.
For questions or more information about the Rapid Corridors Project, contact the Planning Department at planning@actransit.org; (510) 891-4854.