AC Transit Unveils Latest Zero Emission Roadmaps: ZETBTA Volume 3, ZEB Transition Plan
AC Transit Unveils Latest Zero Emission Roadmaps: ZETBTA Volume 3, ZEB Transition Plan
June 22,2022
For more than 20 years, AC Transit has been a leader in the adoption and advancement of zero emission technology. With the release of two exciting new reports that outline next steps in the transition to a 100% clean air fleet, AC Transit is moving from vision to reality.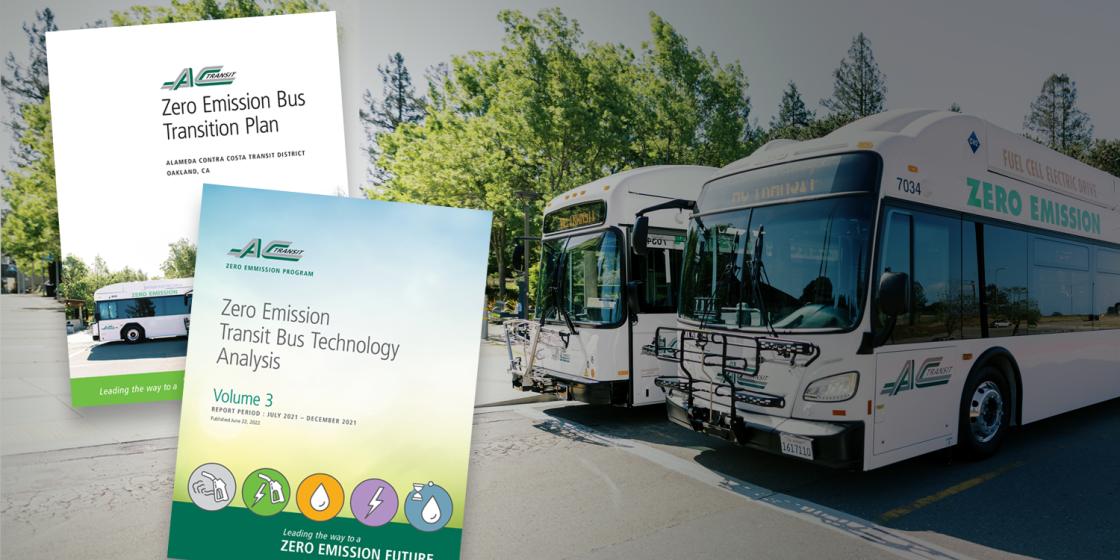 ZETBTA Volume 3
Volume 3 of the Zero Emission Transit Bus Technology Analysis (ZETBTA) represents the latest iteration of our groundbreaking study and collaboration with Stanford University's Precourt Institute for Energy. The study offers invaluable insight into workforce development, data integration and management, procurement, and infrastructure updates, ultimately offering transit agencies around the globe a roadmap toward full transition to zero-emission technologies.
Read the report to learn:
How AC Transit is introducing virtual reality training (computer graphics superimposed on our real-world training modules); an immersive zero emission technical training that removes risks to employees.
How all-new dual piston cryogenic pumps have increased the H2 fueling window from 65 to 85 buses.
Insight into converting Low Carbon Fuel Standard credits into reliable revenue.
---
ZEB Transition Plan
In June 2020, AC Transit released a Zero Emission Bus Rollout Plan in compliance with California's mandate to transition public transit fleets to zero emission by 2040. The report is a living document that integrates ZETBTA fleet performance data, which when combined, helps our transit district navigate the road to 2040.
Read the report to learn:
About our updated Rollout Plan, which deploys a fleet mix; 70% hydrogen fuel cell electric buses and 30% battery electric buses.
Schedule bus acquisition and facility upgrades to maximize efficiency and mitigate early retirement of conventional diesel buses.
Comprehensive zero emission training for a cross section of employees, from bus operators to maintenance staff, engineers and information technology.
Identify funding sources for future zero emission expansion.