Download AC Transit Official App new release version 1.8
Download AC Transit Official App new release version 1.8
March 03,2022
Plan, ride and connect with us using the newest release of our mobile app. Download the AC Transit Official App version 1.8 on the AppStore or get it on Google Play today!
With the real-time technology of our official app, you can maximize your mobility and confidence in trip planning with us:
Receive instant Notifications about bus service, including detours or disruptions
Find out information about specific bus lines and stops, & bookmark your Favorites 
Get ACT RealTime® for direct access to our in-house fleet management systems, giving you accurate bus arrival predictions, and immediate service change alerts
Connect directly with Customer Service at AC Transit via Feedback for Lost & Found reports, sharing your rider experience, or providing general comments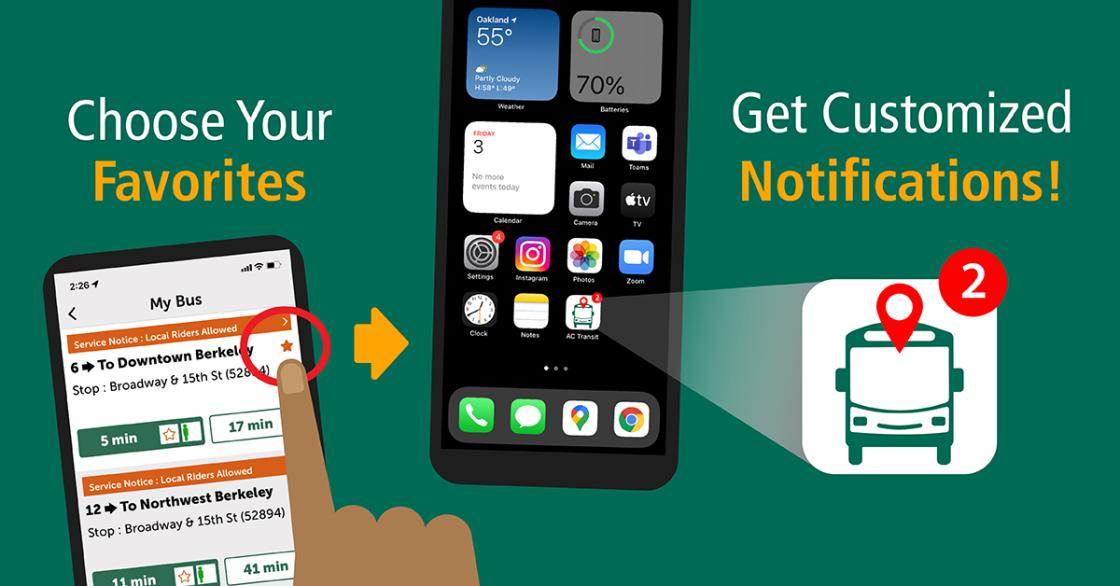 Additional advantages for downloading our app include access to eligible discounts and Pay-As-You-Go Fares! To get more information on contactless payment and view frequently asked questions about customizing notifications or other app features, visit actransit.org/app.
Time is precious, so minimize any waiting with uncertainty. For greater accuracy, convenience, and mobility, download version 1.8 now --- the AC Transit (Official) App.