Sharing Sparkle with Our Free-Ride Holiday Bus
Sharing Sparkle with Our Free-Ride Holiday Bus
December 01,2020

2020 has brought us all some obstacles to face, but we continue to celebrate the Holidays together…even if socially distanced. It has been important to AC Transit to maintain our longstanding tradition of putting a free-ride Holiday Bus into service to celebrate each year.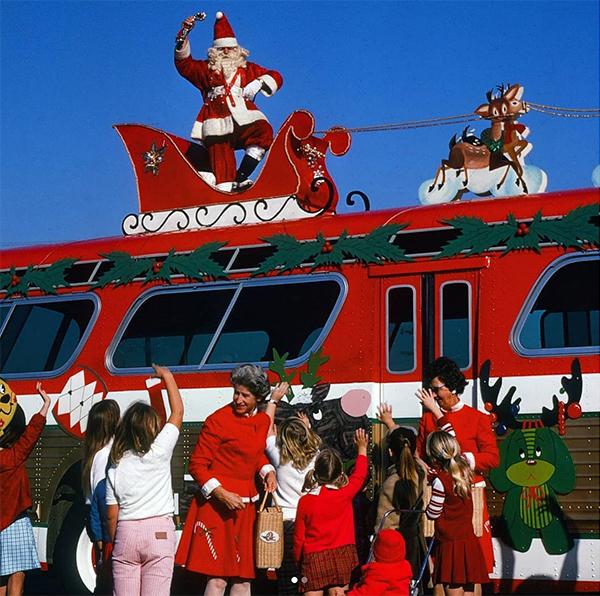 In 1963—just three years after AC Transit began its service—the first holiday-themed bus was launched. In the years that followed, the Holiday Bus became more and more elaborate, with vehicles being custom-painted and decorated with handmade wooden ornaments. By the mid-1960s, a full-size sleigh was installed on the roof, in which "Santa" would ride to thrill children and adults alike—times were much different back then!
There have been many versions of Holiday Bus throughout the years. Sometime in the 1980s, vehicle décor changed from custom paint and bolted-on decorations to decals. 2008 saw the first use of a full custom vinyl wrap. Gifting riders with free fares on the Holiday Bus throughout the month of December has now become a cherished tradition at AC Transit.
This year's theme is "Holidays Always Keep Their Sparkle." Please join us in keeping your sparkle, regardless of what the year has brought. And we ask that you pay it forward by spreading some holiday cheer wherever you can within our community.



When you see the Holiday Bus, climb aboard and ride for free. It will appear on a different route every day throughout the month December. We at AC Transit thank you for your continued ridership and support—and we thank our team of essential workers for doing all that they do to keep our riders moving. We're looking forward to some exciting things on the horizon in 2021 and many more miles together on the roads of the East Bay with you. Happy holidays, from our family to yours!