All-Door Boarding Pilot on Lines 6 & 51B
All-Door Boarding Pilot on Lines 6 & 51B
April 06,2021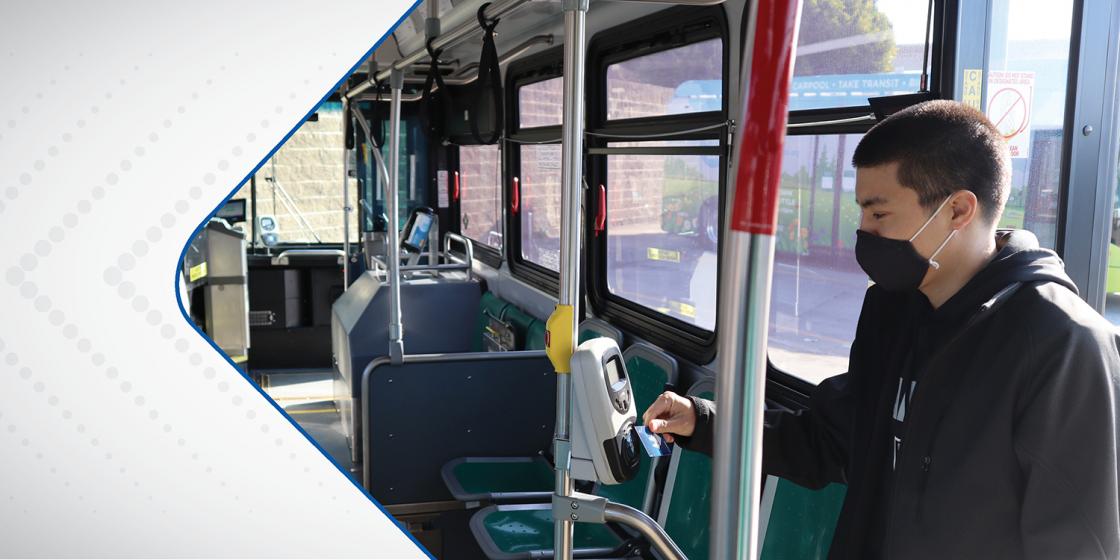 UPDATE: Tuesday, April 6, 2021
Lines 6 & 51B Riders: Tell Us about Your All-Door Boarding Experience
AC Transit rolled out the All-Door Boarding Pilot for lines 6 & 51B on March 1, 2021. We'd love to hear how this new boarding option affects your ride. Our short survey will help us evaluate the pilot's impact on service reliability and shape future decision-making. Riders who complete the survey can be considered for a chance to receive a free AC Transit 31-Day Pass.
Effective Monday, March 1, 2021
AC Transit offers All-Door Boarding on lines 6 & 51B as a pilot test program. Clipper® card holders can use rear doors and pay fares by tagging upon boarding. Riders using cash, paper pass or mobile payment options will continue to board at the front.

As part of AC Transit reNEW initiatives, the pilot offers an additional contactless payment option for Clipper® users, and facilitates social distancing during boarding. We'll use feedback collected during the test period to evaluate impacts on boarding and reliability, as well as to guide future decision-making.

It is anticipated that all-door boarding will provide an optimal riding experience by providing 1) Faster Boarding due to shorter lines (2) Faster Service to your destination (3) Better Social Distancing with less crowding at stop areas.

We'd like to receive your input about the All-Door Boarding Pilot. We welcome you to please:
For more information, please review Frequently Asked Questions (FAQ) below and watch our short "how to" video for All-Door Boarding here.
Frequently Asked Questions (FAQ)
What is All-Door Boarding?

All-Door Boarding offers Clipper® card holders access to enter buses and pay fares at any door.

Which lines are included in the All-Door Boarding Pilot and why is it being implemented?

The pilot lines 6 and 51B are high ridership lines. As a result, boarding can increase dwell time at stops and can lead to possible delays, especially during the pandemic. We're looking forward to determining whether all-door boarding can help improve on-time performance.

Why do you offer this option on only two lines?

All-Door Boarding Pilot implementation assumes payment validation at rear doors, in addition to, front doors. Currently, there are only 25 AC Transit buses equipped with Clipper® Card readers at both sets of doors, all of which are operating on lines 6 and 51B. AC Transit will evaluate whether all-door boarding can be expanded to other lines in the system. (Additionally, AC Transit Tempo already provides all-door boarding along the entire line 1T.)

I need to get a Clipper card. Where do I start?

You can learn more information on-line at clippercard.com. Also, Clipper cards can be purchased by phone at (877) 878-8883 and in-person at the AC Transit & Clipper Customer Service Center or other select retail outlets.

I am using a mobility device. Can I still board at the front?

Yes. All riders with mobility devices or needing any assistance should continue to use the front doors.

I pre-paid my fare using the AC Transit Official App or other mobile ticketing app. Can I board at the rear?

Using a mobile app to pay fares will still require riders to board at the front door for operator validation. At this time, only Clipper card users are enabled to board at the rear.

How is fare payment enforced?

AC Transit offers riders many ways to pay their fare, so catching the bus is easier than ever. To maintain a fair and equitable bus system, fare payment is required to ride AC Transit. Riders who fail to pay their fare may be denied boarding or receive a citation. Please be advised: All-Door Boarding is not an attempt to bring back fare-free rear door boarding. That was an emergency measure implemented in 2020 to enhance safety measures until operator shields were installed on the buses.

How do I report issues with a Clipper card reader if it is malfunctioning, missing or seems out-of-service?

Please notify AC Transit by calling the Customer Call Center at 510-891-4777. Also, you can use our on-line Customer Feedback Form, email us at rideact@actransit.org or submit feedback using the AC Transit Official Mobile App. Please note: All-door boarding is in effect on Pilot Lines 6 & 51B regardless of whether there is a functional Clipper Reader at the back door of the bus. If a bus pulls up without one, you can still board at the rear door and you do not have to tap your Clipper card at the front door.

Is there a protocol when exiting buses with all-door boarding?

Yes. For safety and courtesy, riders who are boarding should first allow those who are exiting to clear all doorways.

What happens after the Pilot ends?

Based on the outcome of the evaluation and the availability of additional funding, AC Transit staff will consider implementing All-Door Boarding on more lines in the future.