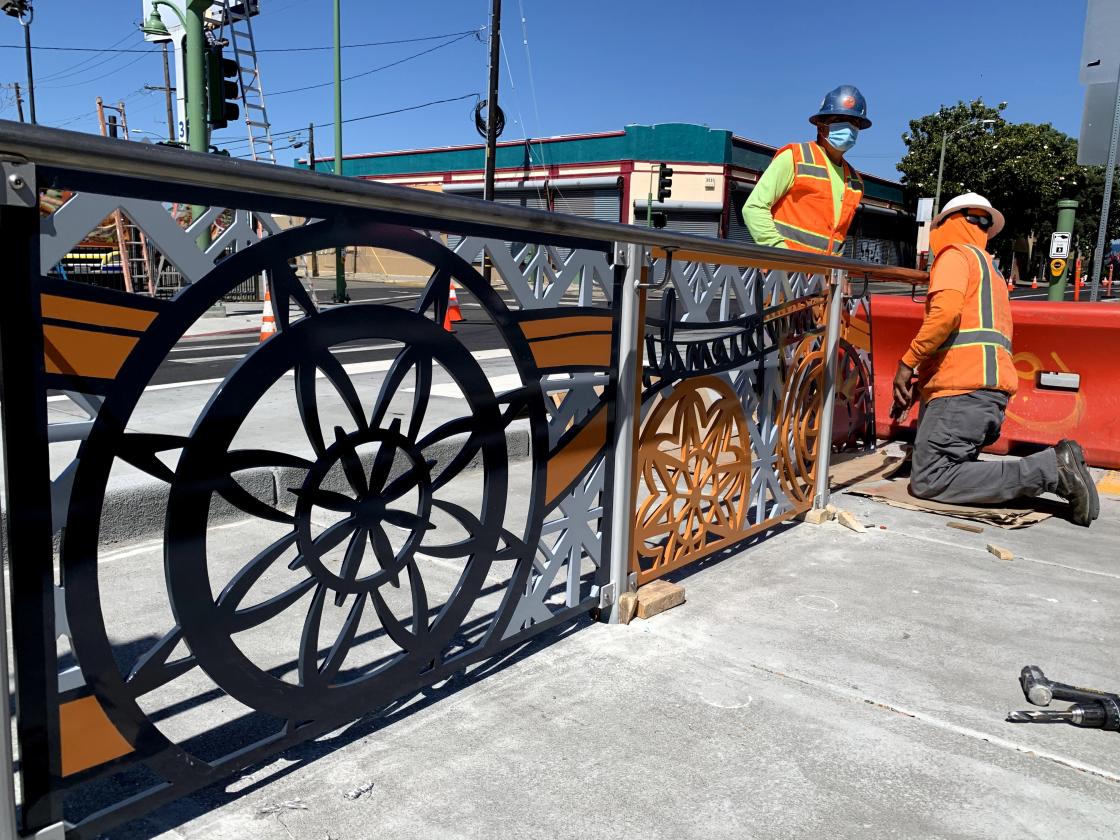 Project Information
Major construction on Tempo Line 1T started in August 2016 and ended in June 2020.
The project has delivered major improvements to people in Oakland and San Leandro including:
46 stations with attractive canopies, wheelchair accessible sloped sidewalks, lights, cameras, seating, Clipper card readers, ticket vending machines, trash cans, map cases, and wayfinding signs
11 platforms with unique, artistically-enhanced windscreens and handrails designed by local artists
The new San Leandro Transit Center at the entrance to the San Leandro BART Station
8 miles of new bike lanes, making it safer for cyclists to navigate the East Bay
9.5 miles of new curb-to-curb pavement, providing a smoother and safer ride for all vehicles
35 new signals to slow traffic and save lives
515 new curb ramps that enhance mobility for people using wheelchairs and strollers
More than 450 new high visibility crosswalks that increase pedestrian safety
13 miles of fiber optic cabling that will power the system
254 trees and new landscaping along the corridor
Tempo construction also benefited local workers and supported local economies. One hundred ninety six (196) local resident construction workers from Oakland and San Leandro were hired to help build Tempo Line 1T.
These essential workers worked over 210,000 total hours on the project, or more than 35% of all project hours.
Disadvantaged workers made up 14% of all apprentice hours worked on the project.
In total, local workers earned $7.8 million in wages!
In addition, the Project Labor Agreement generated $61,000 that was granted to help support local pre-apprenticeship training programs at the Cypress Mandela Training Center, West Oakland Jobs Resource Center, and Rising Sun Energy Center.
BRT Stories
Librarian looks forward to Bus Rapid Transit service
The start of Bus Rapid Transit service along the International Boulevard corridor will make life easier for commuters. But it's also going to provide new opportunities – and more potential clients – for the many businesses and community services located along the route.
One of those who is eager to embrace the prospect of increased traffic is Pete Villasenor, the head librarian at the Cesar Chavez Branch of the Oakland Public Library (3301 East 12th Street, Ste. 271, at Fruitvale Village).
"BRT would be really beneficial for our patrons," said Villasenor. "I can only see benefit from this project.
"I expect more people will visit the library as a result of BRT. BART is nearby, but we draw mostly from the nearby neighborhoods, within a 1-2 mile radius. Parking isn't easy here, but with this, it should be easier for people who don't want to drive here and who are not able to make the walk."
Villasenor knows his clientele well. He has worked for the library system since 1996, serving at Cesar Chavez for nine years and leading the branch for five years.
The Cesar Chavez branch has a rich history. It opened in 1966 as the Latin American Branch Library, the first library in the nation to specifically serve the Spanish speaking population. And it continues that tradition today with computer classes in Spanish every Saturday and bi-lingual story time for toddlers and preschoolers.
Today, libraries provide other services too.
"In a way, we're becoming de-facto day care for these kids whose parent or parents have to work," Villasenor explained. "This way, they are not on their own. They eat here and hang out here longer. We feed their stomachs and then feed their minds.
"This is the third summer that we will be offering free lunches for kids up to (age) 18 healthy lunches Tuesday through Friday. We feed on average 50 kids on each of those days during the summer."
Villasenor also is looking forward to BRT on a personal level. "I'm a bicycler and I'm very happy that there will be bike lanes."
Q&A: Cyclists like BRT
The East Bay Bus Rapid Transit system offers a host of benefits to the cycling community, from enhanced highway and station safety to bicycle storage areas along the route.
The East Bay Bicycle Coalition is among the many organizations that have gone on the record in support of BRT.
Dave Campbell, the coalition's director of advocacy, talks about the coalition's issues as the inaugural guest of the 'Five Questions' feature.
Q: Dave, please tell us a little about the coalition.
A: The East Bay Bicycle Coalition traces its roots back 41 years, to a time when BART banned all bicycles. A lot has changed and AC Transit has been among the leaders in working with the cycling community. Today, the coalition's membership includes 4,000 riders in Alameda and Contra Costa counties.
Q: Cyclist safety is always a concern. How does the Bus Rapid Transit project address safety concerns?
Good transit routes are also good routes for bicyclists. It is dangerous for a cyclist to be forced to jockey for position with a massive bus. BRT's center-island station concept with bike lanes along the outer side of the road will go a long way to ease those fears along International Boulevard. Cyclists will keep right and continue safely on their way as the bus stops at the center-island station. It's a cyclist-friendly design.
Q: The design phase is still underway and the coalition has made some suggestions about curb-side stations. Can you explain?
A: Yes, we are still working with BRT designers on safety issues at curb-side stations. The goal is to avoid patterns that force cyclists and buses to cross paths. The best answer is construction of new station pads that better accommodate bike lanes, but we acknowledge that will take money that is not currently available. The coalition is eager to work with BRT officials in pursuing federal dollars under the Safe Route to Transit program and other funding sources that could pay for these upgrades.
Q: Bike parking has been a concern. How is that situation looking?
A: AC Transit has a long history of working with the cycling community. It was the first agency to put bike racks on its buses and it has agreed to allow bikes on all BRT buses. That's a great commitment. They've also agreed to install bike racks at all center-island stations. We continue to discuss bike parking at curb-side stops. Ultimately, we expect to see bicycle parking – maybe as many as 200 spots – at about 50 stops along the 9.5-mile route.
Q: What's next on the agenda?
A: AC Transit has been great to work with on BRT and we would like to build on the relationship to expand opportunities for people who bike across the East Bay. One area that has real potential is the development of east-west bicycling routes that can act as feeders for BRT in East Oakland. We're talking with Oakland officials and community representatives and look forward to future talks with San Leandro officials. Earlier, I mentioned the federal Safe Route to Transit program. There are dollars there that Oakland and San Leandro might be able to access for this purpose.
A new age in transit is born with BRT
Bus Rapid Transit is about to change the way East Bay commuters get around.
BRT is a high quality, high capacity rapid transit system that is making news around the world as a 21st Century answer to urban congestion.
It has proven its value from Boston to Brazil. Now the East Bay is taking BRT to a new level as AC Transit teams with the cities of Oakland and San Leandro to bring relief to passengers travelling between and within the two communities.
Starting in 2017, a new fleet of hybrid buses will whisk passengers along a 9.5-mile route between downtown Oakland and San Leandro BART.
In many ways, BRT improves upon traditional rail transit systems. Vehicles travel in exclusive lanes, avoiding traffic. Passengers walk to comfortable stations, pay their fares in the station, and board through multiple doors like a train. Service is frequent and fast. Vehicles will be zero-emission buses.
There is a lot of work to be done before the first BRT vehicle rolls. The project will create significant economic and employment opportunities. And it will adhere to strict environmental and regulatory standards.
AC Transit is committed to keeping the community informed at every step of the journey.
On this website, there are pages dedicated to every aspect of the project ΓÇô from construction updates and information on opportunities to get involved to stories about interesting destinations along the route and passenger information. There is a section on frequently asked questions and a repository of documents relating to design, regulatory and financial aspects of the project.
ItΓÇÖs our goal to make this website a living community resource.
BRT's Rosie the Riveter
You may have spotted Amy Mollwitz outfitted in neon high-visibility clothing and hard hat as she lays the path for the East Bay Bus Rapid Transit Project (BRT). Her official title is Operating Engineer Apprentice but unofficially those who watch her daily work have nicknamed Amy "Rosie the Riveter of the BRT."
In fact, Amy says women who've called the Bay Area home for years, see her and flex their bicep in homage to the "Rosie's" depicted in those now iconic photos produced some 70 years ago. Some remark "Girl, how'd you get that job?" Amy responds with an energetic "You paved the way!" as they pass her construction area.
The BRT has been dubbed "light rail on wheels" and will run the 9.5 mile corridor from downtown Oakland to San Leandro BART along historic International Boulevard. And a young mom like Amy, helping build the BRT, conjures memories of how young mom's helped to put the city of Richmond on the map during World War II. Young women initially relegated to waitress jobs became ship welders coining the name "Rosie's". Collectively, these Rosie's constructed 747 ships during WWII – a feat not equaled anywhere else in the world since. Many see BRT as helping to positively reshape the International Boulevard corridor.
Amy knows that she stands on the shoulders of the Rosie's of yesteryear. Since preschool, she has been interested in construction. Amy remembers making car tracks with her brother at four years old. By age 10, the budding engineer would build her first tree fort. Since then, she's never looked back. Amy even calls herself a "tinker fairy" as she loves to figure out how to build things.
Amy first found out about the engineer apprentice programs through a good friend who was a surveyor on the Bay Bridge. She applied for the apprenticeship program and went to the operating engineer's eight week training camp for new apprentices in Rancho Murieta, California.
This was a true test. As a single mom, she had to find care for her very young daughter and make it through an extremely challenging program without pay in order to begin work as an operating engineer apprentice. There were only six females in the program and they had their own dormitory. She loved learning something new every day and noted that sometimes the women exceeded the men at some of the skill sets.
Amy knows this type of work can take a lot of patience. She often tells her seven year old daughter Taylor to "try, try, try again". Amy's advice has not fallen on deaf ears. "My mommy can fix anything: your house, your car, even your toilet!" says Taylor.
Amy knows that this life advice is good for any age. She follows her own advice by being patient with herself during the long learning curve of apprenticeships.
Her suggestions to others on this same path are to "take a deep breath and try not to panic or be scared". She also recommends talking to peers often in order to get their perspectives.
On a daily basis, she finds that "taking up as much seat time as you can" really helps her develop her skill set. This means she spends as much time as she can literally in the driver's seat of the many different machines on site on the Bus Rapid Transit project. It takes time to learn how to operate each complicated machine safely and efficiently.
Being out in the community each day, sometimes Amy encounters those she describes as the "grumpies". Her tactic for the grumpies? A big, warm smile and usually by the time they pass back by her construction area, they respond with a "keep up the good work". Amy knows people usually can't resist a smile and before long, they find themselves smiling back.
Amy's employer first put her on the job in their equipment yard in the Fruitvale neighborhood. There she was able to operate a backhoe and began to manage and separate stockpile, broken concrete, asphalt, excavated dirt, and other materials.
She organized the dump trucks and put the materials in the right locations. She was in charge of keeping the site clean and dealing with multiple 10-wheeler trucks loading and hauling. Her job was to dispatch them and load them up with whatever material was needed.
Once she mastered that, the next step was to get her in the field to support the digging. She notes that good relationships with the operator are critical: "You have to watch for the gas lines or you can't get anything built. You have to know when to back off from danger and work closely with the person in the rig since they can't see what you can on the ground. Working with other operators is a brotherhood and sisterhood." These successful teams have successfully navigated any disruptions in service along the corridor during both of the first two phases of BRT construction. The third phase will begin soon.
Amy's goal is to learn as much as she can and be exposed to as many aspects of construction as possible. One day she'd like to be a project manager.
Amy's apprentice program is about two and a half years. She has to complete 1,200 hours before moving on to stage 2. She will continue to return to the training camp for hands­ on and classroom training about two weeks a year.
She appreciates the opportunities working in construction has afforded her and wishes she'd known about this type of work ten years ago.
Amy knows her daughter will be well aware of the opportunities in construction from a young age. "I do this for my little first-grade daughter Taylor. She's what keeps me going. My job shows her she can do whatever she wants," says a proud Amy. "I often tell her to keep her head in the game. If you get knocked down, brush yourself off and keep going. I want her to be a strong little girl."
Amy not only wants to show her daughter that girls can be a success in construction, this 2.0 Rosie the Riveter cannot wait for BRT's completion, because then she and Taylor can ride the "light rail on wheels" and literally show her daughter that her mommy helped to build it.
The Silver Treasure Chest
At 83 years young, John W. Silver, Jr. is not settling into his golden years. Instead, the owner of J's Ice Cream, at 67th Avenue and International Boulevard, is proving to be as resilient as the precious metal with which he shares his last name. In fact, Mr. Silver sees the three new traffic signals, three new BRT stations and 44 new ADA-compliant curb ramps, as part of his grand recipe for delectable success.
Silver has lived and worked along BRT's International Boulevard corridor for over 35 years. Similar to BRT's long-term investment, Mr. Silver first invested in the community as the owner of an auto body shop. He ran that business for years before expanding his entrepreneurial dream into ice cream. Sadly, Mr. Silver lost his wife in 2010 and decided to sell the body shop. During his grief, Mr. Silver even contemplated moving out of the neighborhood until Oakland Mayor Libby Schaaf persuaded him otherwise. "She was honest with me," Mr. Silver explains. "She said, we don't have many Black businesses anymore. And I know what she's talking about."
Mr. Silver stayed and now exclusively operates J's Ice Cream. From behind the counter, he remains keenly aware of the comings and goings of his neighborhood. In fact, he's made it his business to scoop more than ice cream; he's deeply involved in the surrounding community.
After 83 orbits around the sun, Mr. Silver can now proudly proclaim the titles of business owner, minister, little league coach, mentor, father, grandfather and great-grandfather. Still what he holds closest to his heart is the lecture time at nearby Lockwood and Havenscourt schools. As he tells it, some of the older students have specifically asked their teachers to have "Uncle J" return to speak to their classes.
"They like me talking about the military," Mr. Silver says. "I'm an ex-helicopter pilot. They want to hear about that."
"Uncle J" stresses the importance of getting an education. "They ask me, 'how were you lucky enough to get into something like this?' And I say, 'I went to school!' That's a good cue for them – stay in school."
Mr. Silver's community service is not limited to the schools. Each day that he opens the doors of his ice cream shop, he is also opening the doors of opportunity and dialogue along this stretch of the BRT corridor. He says many kids will not or cannot talk to their parents, but they will come in and talk with him. "I leave the door wide open; I say, 'anything you want to talk to me about, let's talk.'"
"If a child comes in here and says, 'Uncle J, I'm hungry,' we'll feed him. I do that from here," as he softly pats his heart. "I couldn't tell him no."
Whether it is a bag of chips or a cup of hot cocoa, Mr. Silver tries to fulfill the request. "Some of the bigger boys, they say, 'Mr. J, we'll come back and pay you tomorrow.' And they always come back and pay.
I'm teaching them how to be respectable and how to develop their credit. I tell the kids, 'ten years from now if you tell someone that you have credit with J's Ice Cream and I'm still alive and they call me, I'll give you a good reference.'"
Unquestionably, Mr. Silver has become a father figure to the scores of people who live between 62nd and 72nd Avenue on International Boulevard. Still he speaks most proudly of his children, grandchildren and great-grandchildren. "I'm proud of them because they're trying to do something that's constructive and concrete ­­– making a difference."
The grandfather with a heart of "silver" really perks up when he mentions his great-granddaughter who is graduating from UCLA this year. "Now, you know I'm proud," he chuckles. "At 19? Most kids don't stay in school! And she comes to me for advice. I'm so proud of her!"
It is easy to understand, after talking with Mr. Silver, why he remains in the neighborhood even after a car hit his building shortly before the BRT project began. "It ran through my building and did over $250,000 damage," he says. "It slowed me down but I'm the type of person who doesn't give up."
He thinks the BRT will not only help his business but East Oakland, in general. "I think it will. I think [the neighborhood] is really going to move then. I've never been against progress in the city."
Along with new stations, traffic signals and curb ramps, the BRT project has improved sidewalks and brought new traffic control to the intersection of 67th Avenue and International Boulevard, a main crossing for local schools. When completed in late 2019, BRT will provide transportation that is more reliable, mirroring the reliability Mr. Silver has provided to those who call this neighborhood home.
BRT: Year in Review 2018
It seems like only yesterday we were assembling dignitaries for a groundbreaking, checking for underground utilities and blanketing the International Boulevard / East 14th Street corridor with door hangers announcing the start of construction. Although time may blur, AC Transit's much-heralded East Bay Bus Rapid Transit (BRT) project made progress each day of 2018.
As a New Year begins, we invite you to take a look back at the remarkable progress made on the BRT in 2018, and hope that you are as excited as we are to begin service in 2019!
JANUARY – The Downtown San Leandro Station at Hays and Davis Streets and the Civic Center Station, outside San Leandro City Hall, begin to take shape. The concrete for the stations and the bus pad — where BRT passengers will board and exit — is meticulously poured by construction crews.

FEBRUARY – One month later, eight BRT station platforms — three in San Leandro and five in Oakland — are now in place. Station canopies, furniture and distinctive artwork will be installed later in the year and into 2019, after the repaving of International Boulevard is complete.

MARCH – By the start of spring, Americans with Disabilities Act (ADA) compliant curb ramps, modernized traffic signals, and upgraded drainage systems are completed in the Hegenberger neighborhood, between 68th and 73rd Avenues.
APRIL – Before April showers, the construction of BRT's median stations in the Hegenberger neighborhood are completed. Six BRT stations are now in place and awaiting final touches. The first of many new and technologically advanced traffic signals is activated on International Boulevard and 81st Avenue. Seniors from Allen Temple Arms Senior Apartments and youth from the East Oakland Youth Development Center can now cross International Boulevard more safely.

MAY – As moms prepared for their special day, BRT in San Leandro reaches the milestone of 80 percent construction completion. San Leandro residents now enjoy all-new ADA-compliant curb ramps, modernized traffic signals and upgraded drainage systems.

JUNE – As the school year closes, BRT's Outreach Team collaborates with Allen Temple Baptist Church and local high school students to connect local residents with construction-related careers. The students conduct outreach at malls, transit stops, and community centers to share job information with hundreds of Oakland residents. Construction in the Elmhurst neighborhood is now 80 percent complete.

JULY – Before Independence Day fireworks bedazzle the skies, the BRT Outreach Team welcomes an intern from the Metropolitan Transportation Commission (MTC) High School Internship Program to our staff. The program provides high school students, with an interest in transportation, the opportunity to work on major transportation projects throughout the region. The addition of the MTC intern amplifies BRT's outreach efforts over the summer, helping the team better share information about the BRT project with the community.

AUGUST – The project gains steam, along with the summer heat, as construction gets underway in the Eastlake, San Antonio and Fruitvale neighborhoods. Construction crews install new traffic signal foundations, ADA-compliant curb ramps, and upgraded drainage systems.

SEPTEMBER – The start of fall placed our Outreach Team on the road to the Santa Rita County Jail, where we spoke with over 400 people scheduled for release about careers in construction. AC Transit is committed to hiring local residents from Oakland and San Leandro to work on the BRT and other construction projects throughout the region. Several of the people we spoke with were card-carrying union members who were ready and eager to return to work. Since BRT's groundbreaking, we have partnered with the Cypress Mandela Training Center, Rising Sun Energy Center, and the West Oakland Jobs Resource Center to connect residents with good-paying construction jobs.

OCTOBER – As thoughts of candy corn and costumes neared, AC Transit began testing the new BRT buses at station platforms along International Boulevard / East 14th Street! For many, this was their first glimpse of the train-inspired doors and how BRT's level flooring will make boarding and exiting easier for riders with mobility devices.

NOVEMBER – The repaving of International Boulevard begins! The plan is to repave nearly all of International Boulevard between 42nd and Durant Avenues before the end of 2018. By the time BRT service begins in December 2019, nearly 10 miles of the BRT corridor will be repaved curb-to-curb with new asphalt that will last as long as 20 years.

Fall also marks the end of festival season for the BRT Outreach Team. Between May and November, the Team participated in numerous festivals, including the Oakland Pride Parade & Festival, the San Leandro Cherry Festival, and the Chinatown Street Fest. This year, the Outreach Team participated in nearly 100 festivals, community and civic meetings, job fairs, and neighborhood events. Since the project began, the team has participated in almost 250 events, sharing BRT information with thousands of people.

DECEMBER – As candy canes and visions of sugar plums dance in our heads, the BRT project celebrates yet another major milestone with the completion of paving on International Boulevard between 42nd and Durant Avenues. Additionally, 16 station canopies have been installed, including all canopies in San Leandro. Major construction is mostly complete in San Leandro and East Oakland, and a total of 19 stations are now in place. Overall, the BRT is 51 percent complete and the project continues to gain momentum in the Eastlake, San Antonio, and Fruitvale neighborhoods, as well as downtown Oakland.

In 2019, residents will continue to see the BRT stations take shape, including the installation of passenger seating, security cameras, lighting, real-time arrival information, artistic enhancements, beautiful landscaping and more. International Boulevard from 42nd Avenue north to downtown Oakland will be repaved, along with the installation of new traffic signals, safer pedestrian crossings, and dozens more ADA-compliant curb ramps.
The 9.5-mile BRT system is not only on budget but on schedule to begin service to riders in December 2019! Yet the community is already enjoying many of its benefits including new pavement and sidewalks, ADA-compliant curb ramps, safer street crossings and more! An even greater number of people will begin enjoying safer, more pedestrian-friendly streets as the project nears completion.
AC Transit and our BRT staff wishes to thank residents, businesses, and our community partners for your continued support and patience as we work to deliver the first-ever BRT to Oakland and San Leandro later this year!
BRT Year in Review 2019
As gifts are wrapped this holiday season, we are also mindful that operationally AC Transit is wrapping-up the final days of 2019. A year that has been both memorable and momentous.
Our much-anticipated Bus Rapid Transit Project (BRT) took distinguishable shape this year. BRT is now not only nearing 90 percent complete, but passenger service is also scheduled to begin in March 2020.
For BRT riders, this season of giving will continue well beyond the New Year. AC Transit is offering FREE FARES during the first 90 DAYS of BRT's operation. The "Free Fare" offer is a sincere thank you to East Bay communities for the collective support during construction.
Finally, with such a transformative year nearing its end, we thought it fitting to assemble a look back at the asphalt, concrete, and steel milestones along BRT's road to reality.
January – BRT station canopies are erected in San Leandro and East Oakland, bringing four stations and seven platforms to substantial completion.
February – The District inaugurates two community-centered parking lots. The Fruitvale neighborhood lot features 24 parking spaces and the Elmhurst neighborhood lot hosts 19 spaces. Both public lots are helping support local businesses.
AC Transit also installed several loading zones along the International Boulevard corridor to facilitate business deliveries during BRT construction.
March – Major construction begins in Oakland's Fruitvale neighborhood. New curb ramps and bus stations will be built; modern lighting and traffic signals will be installed; and nearly 9.5 miles of International Boulevard will be repaved. New traffic lanes and high-visibility crosswalks will foster safer travel for motorists, cyclists, and pedestrians. The BRT corridor will also be beautified by the planting of more than 60 trees between Fruitvale and 42nd Avenues.
April – Twenty of BRT's 46 station platforms are now substantially complete. Outdoor furniture, enhanced artwork, security cameras, and ticket vending machines await installation.
Of BRT's many advanced designs, accessibility is a central element. Level boarding was prioritized, which ensures no encumbrances between station platforms and BRT bus floors for riders using mobility devices, strollers, or bicycles.
May – In support of National Small Business Week, the BRT project highlighted several businesses along the International Boulevard corridor via social media and partnered with the City of Oakland to host a small business workshop at the Fruitvale based BRT Information Center. During the "Information Technology Tools for Your Business" workshop, local merchants learned how to leverage websites, online tools and other technology to manage various aspects of their business from finances and marketing to sales and everyday organization.
June – Major construction starts in downtown Oakland on the southbound City Center Station at 11th Street and Broadway. Located directly in front of Cal State East Bay's Oakland Center campus, when completed, this station will offer East Bay residents direct access to advanced education and new career training.
July – By Independence Day, the project is 70% complete. As the temperature heats up in the East Bay, so does construction of BRT's San Leandro Transit Center (SLTC), located at the site of the existing San Leandro BART station.
The SLTC will be the BRT's southern terminus. The Transit Center will feature BRT bus station platforms, outdoor furniture, artistic enhancements, security cameras, ticket vending machines, and real-time arrival displays. When complete, the Transit Center will offer commuters seamless connections between BRT and BART, improving direct access jobs and schools, the Oakland International Airport, San Francisco, and beyond.
In order to complete this construction, several bus and shuttle loading zones were temporarily relocated. The BRT Outreach Team served as station ambassadors, ensuring transit riders understood the changes and safely made transit connections.
August – Construction of BRT's forecasted busiest stations begins on Broadway in Downtown Oakland. The stations at 19th and 14th Streets are estimated to serve 1,400 and over 1,600 riders, respectively, each week day. The bustle of these stations will be covered by 48-foot canopies, the largest design in the network.
To commence station platform construction, several existing Broadway bus stops are now temporarily relocated to Franklin Street.
To minimize disruptions to riders, the District launched an expansive public communication campaign that included: street ambassadors distributing relocation information, wayfinding signage, press releases with maps of reroutes, updates on actransit.com, and social media messaging.
More than 40 volunteer staff members spent seven consecutive days distributing an estimated 7,500 informational handouts during the Broadway‐to‐Franklin temporary relocation. The campaign represented over 400 hours of direct community outreach.
September – As fall begins, BRT reaches another major milestone: platform safety testing and operator training starts on the BRT corridor. Operators train on proper alignment of the new 60-foot coaches, docking, and familiarization with BRT's transit-only lane – specifically between the San Leandro border and 90th Avenue.
In advance of training, the Outreach Team canvassed the corridor educating stakeholders on illegally-parked vehicles, keeping the 24-hour transit-only lane clear, and the potential for ticketing and towing.
October – By the close of October, construction is 85 percent complete and the repaving of International Boulevard between 2nd Avenue and Havenscourt Boulevard is officially underway.
(1) Several inches of deteriorating asphalt were ground from International Boulevard. (2) Street sweepers removed loose debris and a "tack coat" was applied to help the new pavement adhere to the underlying surface. (3) New asphalt designed to last up to 20 years is installed on International Boulevard. (4) Motorists enjoy a smoother, safer ride to homes and businesses.
Throughout the repaving process, BRT's Outreach Team visited residents, businesses, and schools to keep them abreast of advances and prevent ticketing and towing.
November – While residents throughout the BRT corridor gathered to give thanks, BRT construction reached yet another project milestone: installation of high-visibility crosswalks, new vehicle and bicycle lanes, and passenger and merchant loading zones.
Every year, The Unity Council's Día de los Muertos festival draws over 100,000 people to Oakland's Fruitvale neighborhood for a cultural celebration of life and to honor those who have passed. The festival is the Fruitvale community's signature event. As a result, the BRT construction team accelerated the completion of major construction to ensure that the heritage, excitement, and entertainment of Día de los Muertos continued without disruption.
Crews worked 10-hour days, six days a week, to build BRT stations at 34th and 39th Avenues. In some instances, crews worked through the night, reconstructing parts of the International Boulevard and Fruitvale Avenue intersection to minimize impacts to traffic, residents, and local businesses. When two potentially dangerous sinkholes were discovered at 38th and 39th Avenues, crews quickly mobilized to repair the leaking sewer lines that had caused the damage, fill the voids, and make the area safe. Finally, after the new stations, curb ramps, and medians were built, a fresh layer of asphalt was installed on International Boulevard between the Fruitvale intersection and 42nd Avenue. The herculean effort to complete construction in the Fruitvale before Dia de los Muertos ensured that festival-goers were able to enjoy the pageantry of the day on a smooth and safe new street.
December – As holiday lights adorn homes and storefronts, the East Bay BRT project celebrates its final phase of construction. BRT is nearly 90 percent complete. Thirty-six of the BRT's 46 station platforms are now in place and seven more are currently under construction. Completed stations will be adorned with station canopies, seating, ticket vending machines, security cameras, and artistic enhancements early next year.
Virtually all of International Boulevard between Oakland's Eastlake neighborhood and the San Leandro border has now been repaved and new roadway striping has made streets safer and more accessible for everybody.
____
As BRT transitions from construction to launch in early 2020, AC Transit will now focus on safe usage of BRT for riders, as well as cyclists and motorists that share use of the corridor.
BRT's March 2020 launch represents a quantum leap forward in East Bay public transit by offering Oakland and San Leandro commuters seamless connections to East Bay jobs, schools and an array of services. We are eager to deliver this world class transit system to AC Transit riders.
As we all await BRT's completion, AC Transit wishes each of you the Happiest of Holidays and a prosperous New Year.