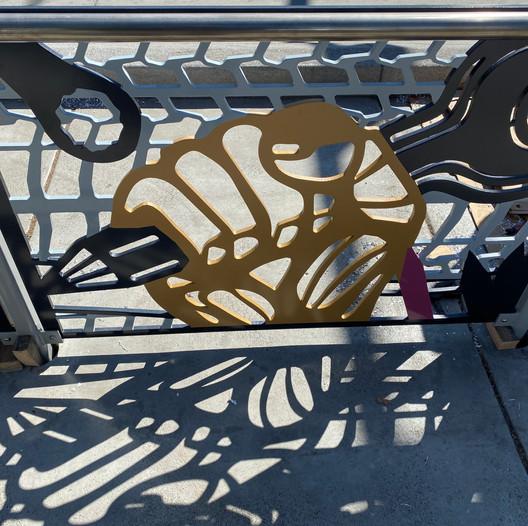 Cultural Corridor/Urban Flow
A statement from the artists
Cultural Corridor/Urban Flow is a nine-mile public art work which employs a ribbon of words and neighborhood iconography to enhance the new Line 1T. Workshops with Youth UpRising in Oakland, San Leandro residents, and the broader community informed, inspired, and guided the artists' design process. Local poet and writer Elmaz Abinader contributed to the text as it was developed resulting in a nine-mile-long poem. Light responsive honeycomb-hex panels, designed for certain stations, punctuates the lively visual environment as they respond to people and vehicles moving by. Each station is a landmark riffing on the unique cultural and social environment of the surrounding neighborhood. Cultural Corridor/Urban Flow considers transportation in the context of all the human-constructed systems which enable us to live and prosper on this planet. Moving people and goods freely from one place to another along with education, communication, commerce, clean water, energy, and waste management are just a few of the ways we have devised to provide for fulfilling lives. A sign of a healthy society is when all of these systems flow together in harmony. This is an unfolding work of art that offers a continuous experience of discovery along the Tempo Line 1T path.
Contributing Artists
Johanna Poethig is a contemporary artist known for her monumentally scaled murals and architecturally integrated public art, socially engaged collaborations, painting, multi media installations, and performance. She grew up in the Philippines and has been active in the Filipino-American arts community since the 1980s. She recently completed a 65' long mosaic for Rainbow Recreation Center in Oakland and the signature mural "Skylight" for the new College of Arts, Humanities and Social Sciences building at CSU, Monterey Bay. She has been commissioned to create public art projects throughout the Bay Area and California, as well as in Chicago, Milwaukee, Cuba, Washington State, New York and Tbilisi, Georgia. She has exhibited internationally, and at the Los Angeles County Museum of Art, Bronx Museum of the Arts, Boston Center for the Arts and Yerba Buena Center for the Arts. She has been recognized with awards from the National Endowment for the Arts (NEA) and California Arts Council, among others. Poethig received her MFA at Mills College and is Professor Emeritus of Painting and Public Art at the Visual and Public Art department at California State University, Monterey Bay.
Mildred Howard is a Berkeley-based artist who has received numerous awards for her critically acclaimed mixed-media and installation work, including an NEA Grant in Sculpture, two Rockefeller Artist's Fellowships and the Joan Mitchell Fellowship. Her work is included in major collections of San Francisco Museum of Modern Art, the de Young Museum, and New Museum in New York and has been widely exhibited internationally at venues in Cairo, Berlin, Paris, London, Morocco, and Venice. Howard has created public installation works in San Francisco in collaboration with poets and writers including Three Shades of Blue in which lines by Quincy Troupe were etched into blue glass panels on Fillmore Street, and The Music of Language where Howard worked with San Francisco Poet Laureate Janice Mirikatani to render lines from her poetry on the building's exterior. Howard's Moving Richmond, a work in which a poem by Macarthur Fellow Ishmael Reed was incised into a forty-foot wall of faceted steel, can be seen at Richmond's BART Station. Parenthetically Speaking, a series of punctuation marks rendered in opaque black and red glass and inspired by a poem by Quincy Troupe, was nominated for the 2013 Arte Laguna Prize in Sculpture, exhibited at the Arsenal Venezia in Venice.
Peter Richards co-founded the Exploratorium's Artist-in-Residence Program with Director Frank Oppenheimer in 1974. He was Director of Arts Programs there until 1998 when he moved to Charlotte, NC to serve as Artistic Director of the McColl Center for Art + Innovation. He returned to the Exploratorium in 2001 as Senior Artist and became Senior Artist Emeritus in 2010. He has a parallel career as a public artist with installations located in both the US and Europe. His most recognized work is the Wave Organ, sponsored by the Exploratorium and located in the Marina District of San Francisco. He is a Research Fellow at the Mediterranean Center for Advanced Research in Marseille, and the STUDIO for Creative Inquiry at College of Fine Arts, Carnegie Mellon University.
Joyce Hsu is an interdisciplinary artist and designer with background in both art and architecture. She received her Master of Fine Arts at the San Francisco Art Institute and her Master of Architecture at California College of the Arts. Her work has been exhibited internationally. Joyce creates site-specific public art. To date, she has received several public art commissions, including a major work at the San Francisco International Airport, City of Seattle, Cupertino, Kaiser Permanente Oakland, Sacramento Light Rail system and Palo Alto Municipal Golf Course.