Supplementary School Service Information

AC Transit has continued to offer trusted bus service throughout the COVID-19 pandemic. This is possible, in part, by the implementation of an array of safety precautions, which include free onboard face masks and hand sanitizer dispensers, anti-viral cleaning and sanitization of buses, and the installation of advanced air filters across our entire bus fleet.

While our service is deemed essential transit, AC Transit is doing its part to ensure that everyone is practicing social distancing to stem-the-tide of COVID-19 transmission, including limiting the number of riders on each bus. This is enacted under the existing guidelines of federal and state public health agencies.

As a result, AC Transit directly appeals to our riders, including school communities, to partner with us in maintaining the following passenger thresholds:
Ten total riders on our 40-foot standard buses and 16 total riders on our 60-foot buses. When the onboard count reaches these thresholds, the operator will change the external head-sign to "Drop-Off Only," alerting awaiting riders that the bus will likely bypass the stop. The operator will continue to recognize requests, by onboard riders, to exit. AC Transit stresses that riders may experience trip delays and to plan accordingly.

Several bus lines remain temporarily suspended due to the ongoing pandemic. We are working to re-establish routes, particularly along our high-demand corridors. Our riders and communities are assured that AC Transit is currently operating at full capacity, and as a result, unable to add additional buses when onboard limits are reached.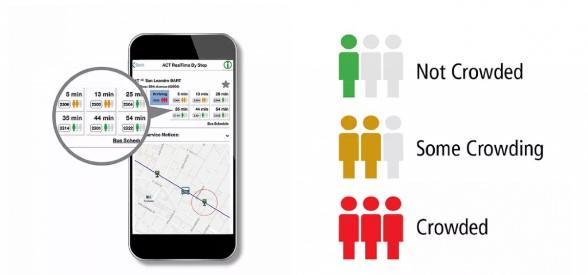 If your stop is bypassed due to new rider limits, you can find out if the next bus is crowded by using AC Transit's new Rider Capacity Feature.
Real time capacity information has been embedded into AC Transit's existing trip planning tools. If you don't already use these tools, there are a variety of ways to access them:
Download the AC Transit Official app, free on iOS and Android.
Visit actransit.org/ACTRealTime from your desktop or mobile device
Call Customer Service at 510-891-4777 and select option 2 or call 511.
This information is also available from other third-party partners that use our data, like Transit app. Learn more about how you can plan ahead using the rider capacity feature here.
You can also use the Supplementary School Service page for a list of local lines that serve the immediate area of your child's school location, then plan your trip here. Please note that capacity limits apply to all lines.
The federal mask mandate issued in January 2021 requires everyone to wear face coverings on public transportation. As a result, AC Transit riders must wear face masks onboard and at bus stops at all times.
Schools will be expected to provide staff to assist students with orderly boarding and mask compliance prior to boarding the bus.
We understand that these changes and restrictions affect families and students as partial reopening of schools continues. We appreciate your cooperation to help protect the safety of riders and bus operators while navigating the constraints caused by the pandemic. We are looking forward to returning to normal service as soon as it is safe to do so.
Additional Resources
Frequently Asked Questions
Supplementary School Service Lines